How to Build a Career in AI and Machine Learning?
Last updated on 01st Oct 2020, Artciles, Blog
Building a career in Artificial Intelligence (AI) and Machine Learning (ML) requires a disciplined approach. If you are currently an IT professional, you might be interested in a career switch because of the exciting opportunities the industry offers to its aspirants. Or, you might have an interest that you have wanted to pursue long. Regardless of what your inspiration is, you need to follow an agenda to ensure a smooth transitioning from your current career path to the one in AI and ML.
According to the job site Indeed, the demand for AI skills has more than doubled over the past three years, and the number of job postings is up by 119 percent. However, job-seeker interest in artificial intelligence careers seems to have leveled off. This suggests that employers are going to struggle to fill these positions for many years.
Subscribe For Free Demo
[contact-form-7 404 "Not Found"]
Top 5 Careers in Artificial Intelligence
1. Machine Learning Engineer: median salary of $114,856
2. Data Scientist: median salary of $120,931
3. Business Intelligence Developer: median salary of $92,278
4. Research Scientist: median salary of $99,809
5. Big Data Engineer/Architect: median salary of $151,307
What Are the Educational Requirements for Careers in Artificial Intelligence?
To take your first steps down the artificial intelligence career path, hiring managers will likely require that you hold at least a bachelor's degree in mathematics and basic computer technology. However, for the most part, bachelor's degrees will only get you into entry-level positions.
If you're thinking of going to school to become an AI specialist, then you'll have to sign up for courses that typically cover the following:
Bayesian networking (including neural nets)
Computer science (gain coding experience with popular programming languages)
Cognitive science theory
Engineering
Physics
Robotics
Various level of math (algebra, calculus, logic and algorithms, probability, and statistics)
If you're already a software engineer, you can quickly become an artificial intelligence developer with a few AI-focused courses, taken at a brick-and-mortar school or an offline or online bootcamp.
1. Machine Learning Engineer
Machine learning engineers are highly sought after and command an annual median salary of $114,856. They're mostly responsible for building and managing platforms for machine learning projects.
The role of a machine learning engineer is at the heart of AI projects and is suitable for those who hail from a background in applied research and data science. However, it's also necessary to be an AI programmer and demonstrate a thorough understanding of multiple programming languages.
Machine learning engineers should also be able to apply predictive models and leverage natural language processing when working with enormous datasets.
To get hired, it will help if candidates are highly experienced with agile development practices and familiar with leading software development IDE tools like Eclipse and IntelliJ.
If you take a look at leading job sites, you'll find that many hiring companies prefer individuals who possess a master's or doctoral degree in mathematics or computer science.
To be considered, applicants must demonstrate an in-depth working knowledge of modern programming languages like the following: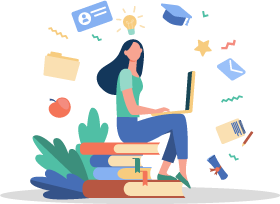 Get Artificial Intelligence Training from Industry Experts to UPGRADE Your AI Skills
Instructor-led Sessions
Real-life Case Studies
Assignments
Explore Curriculum
Preference is often given to technology professionals with strong mathematical skills. Most job postings also require candidates to be experts in machine learning, deep learning, and neural networks, with strong computer programming skills, analytical skills, and experience with cloud applications.
Understand the Prerequisites
The realm of artificial intelligence and machine learning come with their own set of requirements and qualifications. You cannot decide on a Monday that you want to shift to a career in artificial intelligence and on a Friday you land a job in one. The curve is steep and requires you to have a set of basic skill sets to start your journey into the industry. As an AI aspirant, you need to have skills and exposure in the following –
Statistics and probability
Algorithms and coding
Applied math
Programming languages like Python, C++, Java, R
Distributed Computing
Start Preparing
Now, you not only know the basic eligibility criteria to join the industry but the skill sets you to need to work on as well. The next phase of career transitioning is to start working on the skills you lack and getting your basics right. Get books on probability or statistics, brush up your coding skills and gain first hand exposure to your weaknesses. As you prepare, we also recommend you join a substantial course on artificial intelligence and machine learning because it will not just help you get the basics right but gradually take you through advanced concepts as well.
Though self-learning is great, you need some moderation and mentoring to stay on the right track and not lose focus. A course from an AI institute teaches you the required skills the right way and allows you to get hands-on experience in the industry. You also get access to course materials that would further help you understand better about the technologies. Since the technologies involve complex concepts, algorithms and training, you would need the help of a faculty or an expert to guide you through the times of shortcomings. Plus, you also need to understand how the industry functions and works on a daily basis and what your role as an AI expert would revolve around. To answer all these questions, you need to enrol in a course that completely honest your interests and skills required for artificial intelligence.
Work on Projects
We have emphasized the importance of working on projects previously and would reiterate it. Working on diverse projects gives you ample experience in this field and helps your résumé stand out. When applying for a job, it is your certificate from your institute and the number of projects you have worked on that count. And it is on you to make them substantial. Work on as many projects as possible and collaborate with other aspirants for projects and constantly upskill yourself to meet industry requirements. You would understand the importance of it once you land a job.
Now that you have a clear understanding of building a career in AI and ML, it is time for you to start acting towards it. Analyze your strengths and work on your weaknesses, enrol in an AI course and set the foundation strong for a rewarding career in artificial intelligence.
Machine Learning Sample Resumes! Download & Edit, Get Noticed by Top Employers!
Download
Future of AI Engineers
AI is getting even more traction lately because of recent innovations that have made headlines, Alexa's unexpected laughing notwithstanding. But AI has been a sound career choice for a while now because of the growing adoption of the technology across industries and the need for trained professionals to do the jobs created by this growth. Pundits predict that AI will create close to 2.3 million jobs by 2020. However, it is also forecasted that this technology will wipe out over 1.7 million jobs, resulting in about half a million new jobs worldwide. Moreover, AI offers many unique and viable career opportunities. AI is used in almost every industry, from entertainment to transportation, yet we have a massive need for qualified, skilled professionals.
Are you looking training with Right Jobs?
Contact Us