What Qualifications Do You Need to be a Project Manager?
Last updated on 06th Oct 2020, Artciles, Blog
Jennifer started by defining the word "qualifications," as it can be generally applied, but in this case she seeks a more specific definition.
Subscribe For Free Demo
[contact-form-7 404 "Not Found"]
What Does Qualifications Mean?
Being qualified for a position as a project manager means you have the skills, experience and temperament for the job. Therefore, qualifications in this context can have a variety of meanings, depending on the organization and the position they are looking to fill.
Some of the more general qualities associated with being qualified for a project management position include:
which is the thread that runs through all the responsibilities of project managers .
Having three years of experience as a project manager, or thereabouts, to show you have gotten your sea legs.
Having formal training is another indication that you'll be able to walk into the job and know what to do.
Having PMP certification is an industry standard to show that you've learned the basics and know the various methodologies.
A PM Qualifications Blueprint :
Jennifer took those four core qualifications and broke each down into their basic components.
Skills :
Project Management: Naturally, you'll have to start with an understanding of the profession, which can itself be broken down to four core competencies: Time, as in the time it takes to complete the project; Cost, which involves the financial investment; Scope, or the work that the project requires; and Quality, meeting the needs of the customer.
Business: There is a business component to project management, of course. That includes knowledge of the project financials, an understanding of profit and loss, as well as the skill of creating and sticking to aLeadership: Leading a project inherently means being a leader. Leadership is not a technical skill, but it can be studied and taught. Some leadership skills include being able to resolve conflicts, communicating, speaking and writing clearly, having negotiating skills, being persuasive and leading teams.
Training :
There are two channels that lead to learning the skills necessary for being a project manager.
Formal: There are many structured courses of study devoted to the skill of managing a project, from getting a degree at an institution of higher learning to any number of certification programs (more on that later).
Informal: Some organizations have in-house programs to help you transition into project management or offer mentoring and shadowing programs. There is also volunteer work you can do to get the experience an employer will want from a candidate.
Experience :
Speaking of experience, Jennifer dived a bit deeper into that asset.
Volunteering: As noted above, volunteering is a way to get the experience you need. This can be through seeking projects that need guidance or leadership, or you might find such opportunities at your current place of employment. Raise your hand when there are requests for extra-work, don't be shy. It'll pay off in the long run.
Internships: Look for opportunities to intern at some business or organization that is looking for people to help with managing their projects. This could lead to full-time employment, but at the very least it adds real experience to your resume.
Co-Op: This is just another way to volunteer or intern at an organization. It usual applies to students who are seeking professional experience, and consists of both formal training and learning experience.
Entry Level/Advanced Level: Depending on your level of experience, newcomers to the industry can seek entry-level positions, while those with some years of project management experience can look for a more advanced-level position.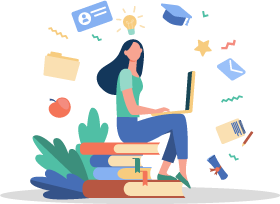 Learn PMP Training & Be An Expert in PMP Concepts
Instructor-led Sessions
Real-life Case Studies
Assignments
Explore Curriculum
Certification :
Jennifer spent some time talking about the various offered to individuals looking to make themselves more viable candidates for project management positions.
PM/BA: You can receive certification or a degree in project management from any number of undergraduate and graduate education programs.
PMP: PMP stands for Project Management Professional, and is an internationally recognized certification offered by the Project Management Institute (PMI).
Agile/Scrum: Organizations, such as the Scrum Alliance, offer training and certification in these newer project management practices.
Pro-Tip:
Once you have a foothold in the industry, you're not going to sit on your laurels. You'll want. That means continuing to contemplate where you want to go, who you need to get there and the skills you need to continue to grow.
Take It Further:
And once you land that dream job, you'll want to equip yourself and your team with needs.
Thanks for watching!
Transcription:
Today, we're talking about the top 10 project management qualifications, and because sometimes the word "qualifications" can be a little bit ambiguous, I wanna start with that, to define what a qualification really is.
So a qualification is a quality, or an accomplishment, that makes someone suitable for a particular job. You may see some job boards at where they announce that the person needs to be able to communicate, maybe they need three years of experience, maybe have formal project management training, and be a certified project management professional.
So when I talk to people, what they're really asking is…when they see a job board, they wanna know, how can I qualify? So here's how I answer that, it really depends. So what does it depend on?
So the qualifications for a project management position in a corporation are going to differ than those, maybe, for a non-profit organization, or even a startup organization, so I call it a blueprint. And I think the blueprint is made of the skills, the training, the experience, and the certifications.
So let's take a look at what's encompassed in these areas. So first of all, in the skills, there are three skill areas, the hardcore project management skills, where the project manager needs to be able to define a schedule. They need to be able to budget the cost, and measure the expenses against that. They need to be able to track and define the scope. They also need to be aware of the quality expectations in certain industries.
They also are required to now, more than ever, know the business skills, understanding financials, or profit and loss statement. And again, being able to create a budget, and track against it. And then now, the leadership skills, and I think this is where companies really look for these skill areas.
So being able to resolve conflict, being able to communicate, write, speak, negotiate, persuade, and also, lead the teams. And then, we look at training, and when we talk about training, companies typically look for a certain number of hours of training they're looking for.
And typically in a corporation, they're looking for formal training, but there are also informal training that maybe you received from a group, organization, or even an association you belong to.
They also look at the number of years of experience, so if you're coming into an entry-level job, they may just want to know that you've had experience, maybe as a volunteer, an intern, a coop, or some other entry-level job. And then for the advanced level, they maybe looking for, maybe two to three years of experience as a project manager.
PMP Sample Resumes! Download & Edit, Get Noticed by Top Employers!
Download
And then more importantly, and more popularly, you see the certifications. Companies now are looking for their project managers to have certain certifications. They typically want them to have a project management certification, which means a certain number of hours of training.
And then also, the PMP certification by PMI, the Project Management Institute. And to be…even qualify for that exam, you have to have so many number of hours of training, and also, a certain number of years of experience.
And then more commonly, you'll also see a BA, a business analyst. Companies want their project managers to understand the business analyst. And then also, certain industries, you may also see certification requirements in Agile and Scrum. So as you can see, this is a blueprint, and you can see how it depends, and the red ones are typical at the top 10 incorporations.
Are you looking training with Right Jobs?
Contact Us