What is COBIT Framework – COBIT Principles?
Last updated on 22nd Sep 2020, Artciles, Blog
The COBIT business orientation includes linking business goals with its IT infrastructure by providing various maturity models and metrics that measure the achievement while identifying associated business responsibilities of IT processes.
The main focus of COBIT 4.1 was illustrated with a process-based model subdivided into four specific domains, including:
Planning & Organization
Delivering and Support
Acquiring & Implementation
Monitoring & Evaluating
All of this is further understood under 34 processes as per the specific line of responsibilities. COBIT has a high position in business frameworks and has been recognized under various international standards, including ITIL, CMMI, COSO, PRINCE2, TOGAF, PMBOK, TOGAF, and ISO 27000. COBIT acts as a guideline integrator-merging all solutions under one umbrella.
Subscribe For Free Demo
[contact-form-7 404 "Not Found"]

The latest COBIT version 5 came out in April 2012 and consolidated the principles of COBIT 4.1, Risk IT Frameworks, and Val IT 2.0. This version draws reference form IT Assurance Framework (ITAF) from ISACA and the revered BMIS (Business Model for Information Security).
Cobit Components
The Various Cobit Components:
Framework
Process Descriptions
Control Objectives
Maturity Models
Management Guidelines
Framework
IT helps in organizing the objectives of IT governance and bringing in the best practices in IT processes and domains while linking business requirements.
Process Descriptions
It is a reference model and also acts as a common language for every individual in the organization.The process descriptions include planning, building, running, and monitoring of all IT processes.
Control Objectives
This provides a complete list of requirements that have been considered by the management for effective IT business control.
Maturity Models
Accesses the maturity and the capability of every process while addressing the gaps.
Management Guidelines
Helps in better-assigning responsibilities, measuring performances, agreeing on common objectives, and illustrating better interrelationships with every other process.
Principles of COBIT Framework
Being a highly reliable and used IT management framework across the entire globe, COBIT has its own set of rules or principles that make it one of the leading technologies in the market. COBIT has a total number of 5 principles that make it a complete IT management and governance framework. All of these principles are listed here, kindly take a look at them and get detailed knowledge about each one of them:
1.Meeting stakeholder needs
The first and most important principle of COBIT is 'Meeting Stakeholder Needs'. It simply means that this framework helps you in satisfying all the needs and requirements of your stakeholders by offering them appropriate values. Delivering desired enterprise stakeholder values simply requires fine management and governance of the IT assets.
All the enterprise boards, management, and executives will have to embrace IT just like any other essential part of the business. Keeping this in mind, the COBIT framework offers a comprehensive framework that assists the organizations in achieving their desired goals and deliver values via effective management and governance of the enterprise IT.
To attain the desired results, all the stakeholder needs have to be transformed into an actionable enterprise strategy. After that, the strategy can simply lead your enterprise in the right direction towards your desired goals. To make this a bit easier, the COBIT 5 goals cascade helps in translating your stakeholder needs into actionable, specific, and customized goals within the context of IT-related goals, enabler goals, and enterprise goals.
2.Covering the enterprise end to end
The second principle of COBIT says that you must cover the entire enterprise or organization end to end so that you will be able to manage and operate every section with equal attention. A flowchart in the above-given image shows every section or part of an organization along with the working of that section. We can easily see that all the parts of an enterprise are correlated with the other one. It simply means that any kind of issue in any section will also create some issues in the other one related to it. For this, the COBIT framework packs a facility that can cover all the sections and parts of your enterprise, so that you will be able to keep an eye on them without facing any hurdle.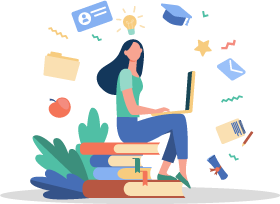 Get COBIT Training By Industry Experts to UPGRADE Your Skills
Instructor-led Sessions
Real-life Case Studies
Assignments
Explore Curriculum
3.Applying a single integrated framework
COBIT comes with an ability to align or integrate with all the latest relevant frameworks and standards used by other enterprises. The major ones of them are CMMI, PMBOK/Prince2, TOGAF, ISO 27000 series, ITIL, ISO 38500, ISO 31000, ISO 9000, COSO ERM, COSO, etc. By the availability of this facility, COBIT can be used as the overarching management and governance framework integrator. It simply means that it can be integrated with any of these above-given frameworks and standards to make your business achieve new heights. In simple words, we can say that the COBIT is a one-way solution or panacea to be integrated with any of the leading management and governance IT frameworks.
4.Enabling a holistic approach
The fourth principle of the COBIT framework is to enable a holistic approach in your organizational work, which means your entire organization must work as a single unit. For this, the latest version of COBIT defines a specific set of enablers to support the implementation of a comprehensive management and governance system for enterprise IT.
COBIT enablers can be termed as the factors that collectively as well as individually influence the work of something. These factors are driven by the goals cascade in the COBIT framework. The COBIT enablers can simply be divided into seven parts that can also be seen in the below-given pointers.
Principles, policies, and frameworks.
Processes.
Organizational structures.
Culture, ethics, and behavior.
Information.
Services, infrastructure, and applications.
People, skills, and competencies.
5.Separating governance from management
The fifth principle of COBIT focuses on the separate implementation of governance and management in the organization. COBIT advocates that the implementation of governance and management processes in an organization must be like the below-mentioned image. Kindly take a look at it to get an elaborated view of a stable organization.
Governance in an organization can be termed as the action or process that ensures the achievement of enterprise objectives by evaluating stakeholder needs, conditions, and options. Moreover, it also takes care of setting direction via prioritization and decision making as well as monitoring compliance, progress, and performance against fixed objectives and directions. On the other hand, the management of organization plans, builds, runs, and monitors different activities in alignment with the direction prefixed by the governance body to achieve the enterprise objectives.
Cobit Sample Resumes! Download & Edit, Get Noticed by Top Employers!
Download
In simple words, we can say that the COBIT framework brings together and works based on these five principles, which allows your enterprise to build an effective management and governance framework. This framework is entirely based on a holistic set of seven enablers, which optimize IT investment and use it for the benefit of all the stakeholders. Additional information related to these 5 COBIT principles can simply be seen by accessing the official pdf of the company.
Benefits of COBIT
The professionals best suited for COBIT methodologies are those who are already in a position to understand the nuances of IT governance in business management practices. The course will be especially beneficial for:
CIOs / IT Managers / IT Directors
Risk Committee
Process Owners
Audit Committee Members
COBIT 4.1 and earlier users
IT Professionals in audit, risk, security, governance and assurance sectors
Are you looking training with Right Jobs?
Contact Us