Roadmap to CSM (Certified Scrum Master) Certification
Last updated on 01st Oct 2020, Artciles, Blog
WHY SHOULD YOU GO FOR A CSM CERTIFICATION?
The Certified Scrum Master course is one of the most popular and globally known certification courses and this is offered by Scrum Alliance.
A Scrum Master acts as a coordinator for a product development group. The Scrum Master helps in the process of information exchange. This technique permits a group to roll out the improvements rapidly, as per the standards. The Scrum Master deals with the procedure for how data is exchanged.
The CSM training comprehends Scrum purpose and practices, and gives a level of information and ability well beyond that of regular venture managers. The CSM cooperates together with the Scrum team and Scrum framework. It also shields the team from both inside and outside diversions.
The CSM training program includes classroom training. This course is very helpful to the people who are aspiring to make a career in project management.
Subscribe For Free Demo
[contact-form-7 404 "Not Found"]

Scrum, an Agile framework has been picking up momentum in creating innovation and improving productivity across organizations. A high-performing Scrum team always contributes to the success of an Agile project and the Scrum Master is the main person responsible for steering the project in the right direction. The Certified ScrumMaster® (CSM®) course boosts your confidence in implementing the Scrum framework effectively in organizations.
CSM® certification- Adding value to your career
As a Certified ScrumMaster, you will be known as being part of an elite group engaged with Scrum Alliance. The members of Scrum Alliance are meant to be Scrum specialists, guiding the project teams to success. Here is why CSM® certification should be a part of your skill set:
1. Based on the recent salary survey by Ziprecruiter, the average annual salary for the Certified ScrumMaster is $116,659 a year.
2. CSM® certification enables you to work across major companies like IBM, Tata Consultancy Services, CapGemini, Honeywell, BOSCH, Accenture, Deloitte and many more in several job roles, such as:
Scrum Master
Delivery Lead
Agile Scrum Master
Program Manager
Project Manager
Agile Coach
Automation Engineer
Project Lead
ORGANIZATIONAL BENEFITS
Today, most of the IT as well as non-IT industry majors are hiring candidates who are familiar with the Scrum framework. A Certified ScrumMaster® can upscale an organization in the following ways:
Guide team members through the product development
Help the team deliver quality products
Participate in the team activities with ease and also learn how to own a task
Resolve the impediments and enhance the team's collaboration
Act as a change agent and enable a culture in which teams can flourish
Become a servant leader for Scrum teams that are involved in developing high-end products
INDIVIDUAL BENEFITS
Scrum framework believes in 'self-organization'. Making a career in Scrum as a Scrum Master will help an individual to-
Gain a high degree of proficiency in executing Scrum.
Contribute in creating a healthy work environment.
Earn the skills that make an individual immune to internal and external distractions.
Become self-motivated to escalate the performance of the team.
Get more job opportunities in IT as well as non-IT organizations with a good pay.
Who must go for CSM Training?
The following professionals may opt for this course:
1. Managers of Scrum teams
2. Members of Scrum team like product owners, developers
3. The teams transitioning to Scrum
4. The candidate who are aspiring to start their career in Scrum Master
5. Software Architects
6. Testers
7. Coding professionals
Eligibility for Certified Scrum Master course:
There are no such eligibility criteria to do CSM training. Any candidate who is aspiring to make their career in project management can go for this course. But it is advisable to have a basic working knowledge of Scrum process.
Roadmap to Certified Scrum Master:
Step-1 :
Search for the globally accepted/recognized/authorized Scrum Alliance.
Step-2 :
Get yourself registered for the course and attend the two days mandatory training class which will be taken by the certified Scrum Trainers. Learn the proven skills in Scrum, it's terminologies, strategies, and values.
Step-3 :
At the end of the class, take up the exam.
You can take up the exam only after the completion of the training program. The exam usually consists of 35 questions with multiple choice. To pass the exam, the candidate must write at least 24 or more correct answers. The candidates have an option to take a break, pause and restart within the exam time. Normally the duration of the exam would be one hour. After choosing the answers, complete the test by clicking the submit button. The candidate can see their score on the computer screen.
Step-4 :
If you fail the CSM training exam for the first time, you can re-attempt within 60 days of your CSM course. You can retake the exam immediately if you want. Nonetheless, if you fail in the second attempt too, then you will have to pay an exam fee $25 to Scrum Alliance. The Scrum Alliance prescribes that it is ideal to re-enrol to the CSM training if you fail on the third attempt.
Step-5 :
If you pass, go ahead and complete the Scrum evaluation and receive the certification by following the steps below:
Log in to Scrum Alliance
Complete the online evaluation
Click the checkbox against the Agree to the terms and conditions and submit the form
Download the certificate and take the printout
Upon passing the examination, a candidate must acknowledge the license agreement and Scrum Alliance membership profile must be completed
Congrats, now you are a Certified Scrum Master and you have become a member of Scrum Alliance.
CSM Curriculum
The objective of the CSM® course is to teach you the fundamentals of Scrum techniques and give you the intellectual tools needed to implement Scrum. Our CSM course curriculum is designed for both budding and experienced project managers. The Certified ScrumMaster Syllabus covers the basics and leads up to advanced Scrum concepts.
Here's the CSM course outline:
Fundamentals of Scrum
The Certified ScrumMaster course introduces you to the basic concepts of Scrum and Agile. It covers the four values and twelve principles contained in the Agile Manifesto, and the five Scrum Foundations values. It takes you through the seven objectives of Scrum and Agile: Intro to Lean, Agile, and Scrum, Agile Facilitation, Agile Coaching, Service to the Development Team, Service to the Product Owner, Service to the Organization, and Scrum Mastery.
Concepts and Terminologies in Scrum
The Certified ScrumMaster course curriculum will then cover the basic concepts and commonly used terminologies. Scrum terms like Backlog, Burndown chart, Kanban, Poker Planning, Stand up / Daily Meeting, etc. are globally used terminologies that every Scrum master needs to be familiar with.
Scrum Roles & Scrum Ceremonies
You will be introduced to the three roles and core concepts (Scrum ceremonies) of Scrum. Scrum comprises three roles: the product owner, the scrum master and the scrum team. It consists of three artefacts, which are the product backlog, sprint backlog, and product increment. Finally, it also consists of four important activities: the daily standup meeting, the sprint planning meeting, the sprint review meeting and the retrospective meeting. You will be taught the other aspects of Scrum, along with these core concepts.
Core Competencies of Scrum
The Certified ScrumMaster curriculum will cover the nuances and skills needed to manage and motivate a team as the Scrum Master. You will be taught the concepts of Coaching Agile Practices, Enforcing Rules, Removing Distractions, Servant leader, Forecasting, etc.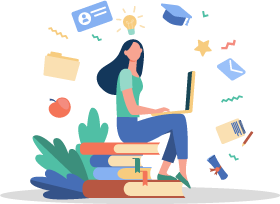 Learn Scrum Master Training from Real-Time Experts
Instructor-led Sessions
Real-life Case Studies
Assignments
Explore Curriculum
Many Responsibilities of a Scrum Master
A Scrum Master can undertake multiple roles within an organization: Facilitator, Servant-Leader, Manager, Mentor, Coach, Motivator, Advisor, etc. The tools and methods of managing teams/tasks could change based on responsibility, and you will be taught how to facilitate each responsibility within the organization.
Use Cases
Along with classroom training, you will also be involved in hands-on practice sessions, through knowledge building games and interactive projects.
Why are further Agile certifications important after CSM?
Certified Scrum Master is a basic certification to enter into an agile world. Moreover, Small scale and large scale organizations are transforming from waterfall to agile methodology.
Your organization must be thinking of Agile implementation. You are well equipped to lead the change as a Scrum Master. There are certain must-have skills such as facilitation, Coaching and communication. As a scrum master, you master these skills by practicing on your day to day job.
The faster way of gaining these skills is to go for the next level of training and certifications. The certifications like Agile Team Facilitator and Certified Agile Coach are two good examples. Both certifications are from ICagile and recognized internationally for their rigour and content.
I am a Certified Scrum Master. How can I become a Coach?
Coaching is considered as one of the first steps to improve an employee's performance within an enterprise. These certifications will boost and validate your coaching skills.
Advanced Certified Scrum Master (A-CSM) – A-CSM is the most prominent certification for Scrum master. This certification benefits in facilitation, coaching, and scrum related skills. Once you attain Certified Scrum Master certification you will face challenges in daily work. A-CSM allows you to learn to overcome stubborn challenges and improve your scrum knowledge simultaneously.
ICP-ATF (Agile Team Facilitator) – It allows you to facilitate events of the scrum and agile. ICP-ATF also includes running and designing of sprint plan meetings. It is an essential step to becoming an agile coach.
ICP-ACC (Agile coaching) – The role of an agile coach is to facilitate Scrum and agile implementation. The primary role of an agile coach is to guide the team in agile implementation. You help them adopt agile and groom them to achieve success.
I am a Scrum Master. How can I work in a SAFe environment?
Apparently, you are much more experienced after working in Agile and looking to grow further; SAFe gives you that opportunity.
Leading SAFe® Agilist 4.6 helps in agile implementation at a large enterprise level. It helps in the agile transformation of vast teams. SAFe® supports Lean-Agile Programs, Lean-Agile Program Portfolio Management, and Scaling Leadership.
If you are working as a Scrum master and aspiring to work in a SAFe environment as a Scrum master. SAFe® Advanced Scrum Master (SASM) is a good option for you. It validates that you have advanced knowledge of Scrum Master in a Scaled Agile Framework.
I am a scrum master having more than three years of experience in projects? Should I go with PMP® or PMI-ACP® Certification?
To Have a project experience adds more credibility to your resume and boosts professional growth.
PMP® certification covers the broader prospect of Project Management. It communicates that you are aware of traditional project management aspects. It gives great market value, enhanced credibility, and higher pay.
PMI-ACP® certificatIon is a "Pragmatic Certification". It is a project management certification that consists of various Agile approaches. It allows you to carry forward the project in an agile and non-agile way.
| Course | Classroom Duration | Benefit | Online Availability |
| --- | --- | --- | --- |
| A-CSM | 2 days | Helps in facilitatingCoaching and enhanced scrum skills. | Yes |
| CSPO | 2 days | Aids to Demonstrate and apply core scrum knowledgeIncreases the opportunities in the industry adopting agile practices | No |
| ICP-ATF | 2 days | Allows you to learn skills of designing and running sprint planning meetings.Road-map to become an agile coachBoost Facilitating skills. | Yes |
| ICP-ACC | 3 days | It communicates that you are interested in Professional and team coachingHelps in learning training, facilitation, consultation in an agile world. | Yes |
| KMP | 2 days | Credibility to talk about kanban more than that of putting things on board.Guides you to mix kanban with various agile approaches | No |
| PMP® Certification | 4 days | Allows you to learn Traditional Project ManagementMakes you capable to understand the aspects of Project Management | Yes |
| PMI-ACP® Certification | 4 days | It helps to Learn Agile Principles and Practices which improves performance | Yes |
| SAFe Agilist | 2 days | Aids to Demonstrate agile at large enterprises level. | No |
| SAFe- SASM | 2 days | Scrum master skills in a SAFe Framework | No |
Frequently Asked Questions:
Which certification after Certified Scrum Master can be done online?
There are five certifications which you can do online after Certified Scrum Master (CSM)
1. A-CSM – Advanced Certified Scrum Master
2. ICP-ACC – ICAgile Certified Professional in Agile Coaching
3. ICP-ATF – ICAgile Certified Professional in Agile Team Facilitation
4. PMI-PMP® Certification- Project Management Programmer
5. PMI-ACP® Certification- Agile Certified Practitioner
Which certification will help me to renew my CSM?
You can do any certification of Scrum Alliance after Certified Scrum Master. Like A-CSM, CSPO. The CSM certificate will be renewed.
Which certification to get ICP-ACC or ICP-ATF?
ICP- ATF (Agile Team Facilitator) allows you to learn skills in designing and running sprint planning meetings. It boosts your facilitating skills whereas ICP-ACC (Agile Coaching) communicates that you are interested in Professional and team coaching.
Which is the difference between A-CSM and SAFe® Advanced Scrum Master(SASM)?
A-CSM entitles you to work under the Scrum framework, whereas SAFe Advanced Scrum master entitles you to work as a Scrum master in a Scaled Agile Framework. If you are aiming to become a Certified Scrum Trainer (CST) A-CSM will take you one step forward.
What is the difference between Project Manager and Scrum master?
A project manager is responsible for the execution of the project using organization resources to meet the business requirement whereas Scrum master is a coach and facilitator. It removes the blockers and helps the team wherever needed. Scrum master motivates the team and prevents them from external distraction.
Agile Scrum Master Sample Resumes! Download & Edit, Get Noticed by Top Employers!
Download
Can I attend SAFe® Advanced Scrum Master (SASM) after CSM?
Yes, you are eligible to attend Scaled Agile Advanced scrum master training after Certified Scrum Master.
Which certification is good for my profile?
If you have hands-on experience on demonstrating projects, you should go with PMP® (Project Management Professional) Certification. If you like making an analysis of business go with PMI-ACP® Certification, CSPO or PMI-PBA® certification.
Are you looking training with Right Jobs?
Contact Us