PMP Exam Preparation Tutorial
Last updated on 29th Sep 2020, Blog, Tutorials
What is Project?
A project is a temporary endeavor undertaken to create a unique product, service or result. A project is defined as temporary because it has a defined beginning and end time, and it is unique because it has a particular set of operations designed to accomplish a goal
The primary characteristics of a project are
It has a definite start and end point
Once the end point is reached, the project is over
It is attempting to achieve something new
Project must meet the customer or stakeholder requirements
Subscribe For Free Demo
[contact-form-7 404 "Not Found"]
What is Project Management?
The project management is the discipline of planning, organizing, motivating and controlling resources to achieve specific goals. The main challenge of project management is to achieve project goals and objectives while keeping in mind the project scope, time, quality and cost.
Project management actually began in the early 1950s. The need for project management arised observing the benefit of organizing work within the project and critical need to co-ordinate across different departments and professionals.
How to Prepare for PMP Exam?
Cracking the PMP exam requires a great deal of commitment and thorough preparation. Serious and good exam preparation is inevitable, regardless of your experience and education. In the past, people with more than a decade of project management experience have failed just because they undermined the difference between being a successful project manager and being successful in clearing the PMP exam. Most of the successful PMP candidates spend 35 hours or more to prepare, so make sure to leave plenty of time for preparation before you take the exam. The images below show some of the best practices adopted by successful PMPs.
1. Review the PMP Examination Content Outline.
Going through the PMP Examination content outline document is a very important step towards doing well in the PMP exam. Published by PMI, this is the most credible document you can go to for the following:
Break up of questions as per the Process areas
List of tasks, skills, and knowledge required as per PMI's Role Delineation study. Going through this gives you a high-level idea of what all gets covered as part of the exam. Once you feel you have attained a reasonable command on the content covered by PMBOK (or a study guide you use) go through these and make sure nothing sounds unfamiliar
2. Enroll in a formal study course offered by accredited Registered Education Providers (R.E.P.s).
Project Management Institute's Registered Education Providers (R.E.P.s) are organizations approved by PMI to offer project management training. PMI started to accredit training providers to establish a global network of quality education providers to help hundreds of thousands of PMI Project Management Professional (PMP) ® credential aspirants and credential holders.
There are a few reasons why you may want to enroll in a training course on PMP. These courses provide tailor-made PMP study materials, best practices to prepare for the PMP Exam. They give you a quick start in getting a grasp of various project management concepts, terminology, formulae and other key inputs needed to get ready for the PMP exam. Most of the training courses also give you the 35 contact hours certificate, necessary for you to be eligible for the PMP exam.
3. Prepare a Study plan.
It is important you treat getting your PMP certification also as a project. Prepare a plan that covers all the activities that lead to your PMP certification. One of the sub plans to this, and a very important one is the study plan. Break your study sessions into smaller chunks and prepare a study plan which includes timelines to read PMBoK, practice mock tests, study various materials etc. Here is a sample study plan:
4. Review the latest edition of PMBOK Guide and self-study books published by other reputable training organizations.
It is recommended that you study the PMBoK Guide, no matter what other preparation tools you decide to go with. Within the PMBoK Guide, focus on page number 61. It contains a table that shows the relation between 13 Knowledge Areas and 5 Process Groups with 47 processes and how these are applicable in project management. A number of PMP aspirants get this table by heart. They would make use of the first 5 minutes of their PMP Exam time to draw this table onto an empty sheet of paper so that they can use it as a reference in answering their 200 exam questions.
Along with the PMBoK Guide, you may want to review other study guides published by R.E.P.s and other reputable training organizations.
5. Practice Mock Tests to get ready for the exam
Mock Tests are often a very good indicator of your readiness to take the exam. They are very useful to identify the gaps in your project management knowledge. After taking a test you can review the results and focus on areas that you need to improve on.
Taking full-length mock tests is important for another reason – it is not easy to sit at a place for four hours at a stretch with a complete focus on answering questions. It is a physically daunting and mentally straining experience. However, it is required to get to your PMP certification. You better get used to it before it is too late.
6. Form a study group:
A good study group can be quite helpful. Check out local meet-ups (read meetup.com) and in case you don't find one, form one. There are a number of benefits of being part of a meetup:
1. Studying in a group breaks the monotony of studying alone
2. It helps you to get help on areas that you are struggling with, and when you help someone your own confidence grows
3. Sharing project management experiences with others are very helpful in cracking a particular type of questions that PMP is notorious for – the scenario based questions
4. It helps you to motivate each other and stay on course
5. The biggest advantage is that it forces you to study on a regular basis, and makes the preparation activity a part of your routine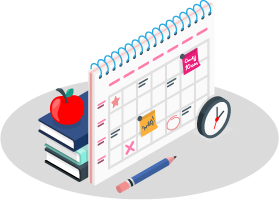 Best JOB Oriented PMP Certification Course to Enhance Your Skills & Career
Weekday / Weekend Batches
See Batch Details
What It Takes to Pass the PMP?
You've made the investment to earn the Project Management Professional (PMP)® certification. Now it's time to make the commitment to prepare for the exam. Carving out time and securing the proper materials to study requires discipline and focus. As a project professional, you've got what it takes.
Take the Exam
To earn your PMP® certification, you need to meet the experience and education requirements, and pass the PMP examination, a 200-question, multiple-choice exam.
Regardless of how advanced your project management experience or education might be, you should still prepare vigorously for the exam. Successful PMP candidates typically use multiple study aids, including courses, self-study and study groups.
On average, successful PMP candidates will spend 35 hours or more to prepare, so make sure you leave yourself plenty of preparation time before you take the exam.
The PMP Exam is changing:
If you have already begun studying, you can take the current exam online through 31 December 2020.
Our new exam will be available after 2 January 2021.
Guidelines for the PMP Certification Exam
Let us have a quick discussion on a few guidelines that would help you in completing your application successfully.
You should join the PMP membership first before you apply for the PMP examination. The members will get a flat discount of $150 for the PMP certification that is actually higher than the registration costs. So, this would be a smart decision to help you in saving money during the first process only. Becoming a member is quite an easy process and easy to complete by the official PMP site in a few steps.
Open the site, click on join PMI button and enter the necessary details. Make sure that the details are correct because the same will be published on your PMP certification too.
You have to cautious when adding the project experience because it will be verified later and add details that are handled during the project only. Focus on things minutely and the work done by you.
Now had a look at the primary contacts given in your application before you submit it. These contacts will be the witnesses for the project experience during the verification process. If you are not sure how to complete this step then don't forget to take help from experts.
In case, your application is selected for the audit then a list of instructions will be given on your email id. You should follow the instructions wisely and be prepared in advance.
In the next section, we will focus on the exam outline for PMP tutorial guide blog.
PMP Exam Outline
The PMP exam will be conducted for a total of four hours that contains 200 questions in total and 25 questions are fixed for the future tests and they will not be scored. These 25 questions will be picked randomly by the team and you should answer all 200 questions seriously.
All 200 questions are multiple-choice questions and there is no negative marking scheme for the wrong replies. You should answer all the questions in the given time only and you can answer all questions together even if you are unsure. There are grades given for all participants instead of rating like –
In this section, we will discuss the topics to be covered in the PMP exam and their weightage too. The percentage of questions from different chapters is given below that would help you in preparing for the exam accordingly.
| | | |
| --- | --- | --- |
| Project Management Process Group | Percentage of Questions | Number of Questions |
| Initiating | 13 | 26 |
| Planning | 24 | 48 |
| Executing | 31 | 62 |
| Monitoring and Controlling | 25 | 50 |
| Closing | 7 | 14 |
The Role of a Project Manager
Moving ahead, let us discuss the common roles of a project manager for different domains –
A project manager is a dominant role for a project and he is entirely responsible for the organizational success too. The position is directly associated with the tremendous accountability, responsibility, ownership, and the authority. Here are the popular roles and responsibilities of a project manager that are listed after a proper research only –
He is completely responsible for the accountability of a project and applies concepts that are learned from the recent similar projects. He needs to understand the project needs deeply and plan the activities accordingly. He also performs the project tracking and updates for project status regularly.
He always adopts best practices for project management and manages project priorities too. He works on project risks and issues carefully and promotes client involvement too. He encourages and support the escalations and enforces effective change controls or management. PMP focuses more on agile practices and minimizes the role of a PM as a controller. Further, he is responsible to monitor and manage project risks, stakeholders, and communications.
Project management skills requirements by professionals
| | | |
| --- | --- | --- |
| Technical Skills | Strategic and Business Management | Leadership Skills |
| PMBOK ® Guide | Business acumen Basic management Vision Strategic alignment | Motivational teams Communication Emotional Intelligence Critical Thinking |
What is the difference between Portfolio, Program management, and Projects?
A "Portfolio" is a collection of other projects or programs. The components could or could not be interdependent.
The "program management" is the centralized and coordinated management of program to achieve the strategic benefits or objectives. Here, multiple projects can be aligned in such way that it could help in achieving the program goals and optimizing the overall project costs, schedules, and efforts too.
On the other hand, "Project" is an independent delivery in a program that has loose association with a portfolio of projects.
A "Stakeholder" is the person who could be positively or negatively affected by the outcome of a project.
PMP Sample Resumes! Download & Edit, Get Noticed by Top Employers!
Download
With this discussion, we come to an end for the blog PMP Tutorial Guide. I hope this blog is 100 percent suitable and will help you in starting with PMP certification training and how to prepare for PMP exams.