How To Renew Your PMP Certification?
Last updated on 06th Oct 2020, Artciles, Blog
Why should you make a PMP Renewal?
Remember, process improvement and continuous improvement in the Project Management Body of Knowledge (PMBoK). Yes! the same concept is applied to the certification. Project Management Institute (PMI) believes that you need to keep yourself in touch with the profession. That's the main reason why there's a PMP renewal process. PMI also advocates that you need to keep yourself abreast of the changes and best practices being used by the Project Managers across the world. So every three years from the time you were certified, you need to renew your certification. This will be reflected in your status as 'PMP with good standing'.
Subscribe For Free Demo
[contact-form-7 404 "Not Found"]
What are the steps of PMP Renewal Process?
The first step for the PMP Renewal is to login to PMI website. Through 'my PMI' you can login to the 'Continuing Certification Requirement System' (CCRS). From here you can report PDUs, look at the history of PDUs reported and have an overview of your certification status.
Step 1: Download the CCR Handbook :
The handbook sets out the policies and procedures for actively maintaining your certification. Part of your acceptance of being a PMP is complying with the requirements in the handbook.
You should read the handbook all the way through so that you fully understand what PMI is asking of you for renewal.
The Handbook explains that the renewal cycle is three years. In other words, you have to make sure you've done enough during the three years after you passed your PMP exam to warrant PMI granting the PMP certification to you for another three years. You can maintain your PMP certificate for as long as you need to by providing evidence every three years that you have kept up your professional development.
If you do this, you can renew your certification and call yourself a PMP for another three years. If you choose not to comply with the Handbook's requirements, you will lose your PMP certification status.
The next three steps are based on information that you can learn from the handbook, but as they are crucial to making renewal a smooth process, we've chosen to split them out as separate steps.
Step 2: Understand the PMI Talent Triangle :
The PMI Talent Triangle™ is a way of talking about how you need to have a rounded skill set as a project manager. For example, could you be brilliant at managing projects if you had excellent technical skills for building schedules and managing risk, but your people skills were poor? No, of course not. Technical skills on their own are not sufficient; you need good people skills, as well to lead and manage your team and influence stakeholders.
Exceptional project managers have more than just technical domain skills – although these are important. You also need to be able to demonstrate leadership skills. And you need a good understanding of your business and business strategy in general.
These three elements: technical skills, leadership, and strategic and business management, make up the three sides of the Talent Triangle™.
Understanding the Talent Triangle is crucial because you have to demonstrate that your professional development and PDUs fit into the Talent Triangle areas. The objective is for you to demonstrate that you have the skills to remain relevant in today's business environment. Imagine if you gained your PMP certification at age 30. You could potentially hold it for another 30 years or more and work on projects during that time!
Now think back to what the world of work was like 30 years ago – if you can remember that far back! How we work now, the technology we use, the things stakeholders feel are important… these are all very different to how office life was three decades ago. That's why it is vital to keep your skills current and yourself relevant to the modern world of work.
Here are the kinds of activities that fit into each area.
Technical Project Management :
Knowledge, skills, and behaviors related to specific domains of Project, Program and Portfolio Management. For example, risk management, scheduling, and applying project management processes would be technical skills. These could be gained by doing PMP PDU courses, or other project management training offered by your employer or online.
Leadership :
Knowledge, skills and behaviors specific to leadership-oriented activities. You need to be able to demonstrate cross-cutting activities that help your organization achieve its business goals. For example, setting a vision, acting ethically, and decision making are examples of skills you could attribute to the leadership domain.
Strategic and Business Management :
Knowledge of and expertise in an industry or organization. Specifically, that knowledge and expertise should help improve performance and the delivery of business outcomes. Examples would be skills like business acumen, developing a deeper understanding of your industry through site visits or improving your general business management skills through a course.
The Talent Triangle is helpful when it comes to understanding your PDU credits because you have to allocate your education-based PDUs to the Talent Triangle areas. We'll come on to that in the next step.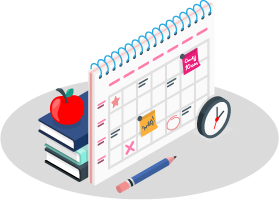 Enroll in PMP Certification Training Course to Build Your Skills & Career
Weekday / Weekend Batches
See Batch Details
Step 3: Review Minimum and Maximum PDU requirements :
There are two ways you can earn PDUs: through education and through giving back to the profession.
PMI has clearly defined requirements relating to the minimum and maximum number of PDUs you can earn for each.
You have to gain a minimum of 35 PDUs in the Education component. These are broken down across the three Talent Triangle areas. For a PMP certificate holder, the minimums are:
Technical PDUs: 8
Leadership PDUs: 8
Strategic PDUs: 8
The remaining 11 PDUs can be made up of any domain from the Talent Triangle; you can choose. If you find it easy to gain technical PDUs, you can claim 11 of those. Or you can split them between the domains depending on the kind of professional development you can pursue.
This gives you 35 PDUs, but that's not enough to get you to the target of 60 across a three-year period. You need to gain another 25 PDUs.
In the Giving Back component of the recertification scheme, there are three ways to allocate your PDUs: Volunteering, Creating Knowledge and Working as a Professional. You can claim a maximum of 25 PDUs from Giving Back. However, you can only claim a maximum of 8 for Working as a Professional.
Note: The Giving Back component is optional. If you prefer, you can gain all your PDUs via Education. You can split your PDUs between Education and Giving Back, as long as you keep the minimum and maximum requirements in mind. For example, you might decide to get 40 Education PDUs, 8 for Working as a Professional and the remaining 12 from other Giving Back activities.
There is no limit to how many PDUs you can earn through Education, and many project managers find this the simplest way to quickly earn a lot of PDUs for PMP renewal.
Step 4: Know Which PDUs to Earn First :
You know the basics by now, and you understand what the requirements are. But, you still need to plan to earn those PDUs.
Rule 1
Start by earning the minimum required PDUs in the two Talent Triangle areas of Leadership and Strategic and Business Management first.
Why? For most people, these are the harder PDUs to get. As a project manager, you'll probably find that you are offered learning opportunities specifically related to technical skills. It is more difficult to get access to general management and leadership education if your employer sees you as simply 'a project manager'. So, it's worth spending some time focusing on what you could do to earn PDUs in those areas.
The added benefit of earning Leadership and Strategic and Business Management professional development units is that they count towards all your certifications. If you hold more than one PMI credential, you can count these PDUs towards your recertification targets for both! Boom! You are making progress towards those targets already!
Rule 2
If you hold multiple certifications, then continue by earning the "specialized" technical PDUs next.
Let's say you are both a PMP and hold the PMI-ACP certification as well. Next, you want to cover all your technical PDUs, specifically in Agile project management. Why? Because PDUs specifically for Agile project management will count towards your needs for the PMI-ACP renewal requirements, and they automatically count towards the technical PDU requirement for your PMP. Double win!
Smart planning will minimize the amount of education you have to do, saving you time and potentially money, while still being able to evidence that you are keeping your skills up to date for your certifications.
By following these two rules, you will earn the "harder" but "more valuable" PDUs first. Once you have these covered, you can earn PDUs from any side of the triangle until you have the required 60.
Step 5: Login to the CCRS and Review Your Account :
When was the last time you logged into the Continuing Certification Requirements System?
It's a good idea to visit https://ccrs.pmi.org and take a look around in your account. The system will tell you exactly how many PDUs you already have and how many you still need. The dashboard will also show you how many days you have got left until your PMP renewal date. That's a number that can help you to focus on the deadline!
If you've already done some training and had PDUs automatically applied to your account, for example by attending a PMI event, you may not need as many PDUs as you think, so it's always worth checking.
Step 6: Plan and Schedule Earning Your PDUs :
Project managers often ask how to earn PDUs for PMP, and the answer is simple. Every good project needs a plan, and it's also essential to plan out earning your PDUs.
The three-year cycle helps you work out how many you need to get on a regular basis. As a best practice, we recommend that you plan to earn at least 1.5 PDUs each month.
If you get into the habit of earning, tracking, and logging your PDUs, you will find that the number adds up quickly. Be regular, consistent, and make time for your development during the work week.
Think about the tools you can use to help you develop good habits and earn PDUs easily on a regular basis. An excellent program to do this with is The PDU Podcast, which allows you to earn your PDUs on your phone.
When you've got access to PDUs so easily, it doesn't take long to get into the habit of earning them during your lunch break or by having educational videos playing while you prepare dinner, for example.
Look back at the handbook and see the other kinds of activities you could do that would give you PDUs. You can plan those on your schedule too. For example, you could commit to attending a Chapter meeting once a quarter, or you could ask your employer to fund your attendance at a national PMI conference.
Note: If you don't plan your PDU activities, you could end up trying to earn 60 PDUs for PMP in the few months before your renewal. Given that one PDU is equivalent to one hour of development, that's 60 hours you are going to have to find at short notice! Even a one-week project management course won't give you what you need for renewal. Avoid that stress and plan your learning.
Step 7: Claim Your PDUs Immediately:
Have you done a course, watched a webinar, or used the PDU Podcast this month? Claim those PDUs now! Contact the event organizer or download your PDU certificate as soon as you can.
Tip: I guarantee you won't remember what professional development activity you have done in two and a half years, when you are trying to fill in the CCRS tool for your PMP renewal. Book time in your schedule each month to update the tool and claim your PDUs as soon as you can after earning them.
Confession time… I didn't do this recently, so I'm not quite sure what my actual PDU balance and requirements are. So, shame on me for not even following my own best practices!
Step 8: Document your PDUs for a Potential Audit :
The CCR Handbook talks about the possibility of an audit. In other words, you have to be able to evidence that you did the PDU activity.
PMI needs some way to ensure that people are performing the development activities they say they are, and they can audit your PDUs. If you get selected for an audit, you will have to provide evidence of all your PDU activities. That could include:
Registration letters for formal training courses
Letters of attendance for organization meetings
Proof of employment
Copies of presentations or materials produced
Or anything else that shows you really did what you said you did.
Therefore, keep good notes! Keep a record of all the PDUs you have earned and the accompanying material that evidences your development.
An easy way to do this is to use The PM Podcast PDU Logfile to track all your activities, and PDUs earned.
Track what activity you did, your study notes as a result of the learning, how many PDUs you earned, and what Talent Triangle sections they align with.
You should keep evidence of your learning for at least 18 months after the CCR cycle has finished in case you are called for an audit. Once that time has passed, it's safe to throw away all those certificates of attendance and other paperwork unless you need them for something else.
PMP Sample Resumes! Download & Edit, Get Noticed by Top Employers!
Download
Step 9: Pay & Renew :
You've managed to earn all the PDUs required for your recertification cycle. Now all you have to do to maintain your PMP certification is to renew it.
PMI is actually quite good about this and will send you email reminders for your renewal. Look out for these and use them as a prompt to finalize your renewal.
Tip: You don't have to wait until you get the email from PMI. You know when you became a PMP, so put a note in your calendar about 9 months before your certification expires to remind you to log into CCRS and check your PDU balance. That gives you plenty of time to earn a few extra if you still need them.
Use the online PMI system to pay your fee and renew your certification for another three years. Details of how to do this will be in your reminder email from PMI.
Are you looking training with Right Jobs?
Contact Us