How To Apply For The PMP® Exam In Easy Steps
Last updated on 06th Oct 2020, Artciles, Blog
Here's what you need to know and do before you apply for the PMP® Certification Exam:
It is vitally important that you understand PMI's definition of a project.
You'll want to ensure you meet the eligibility requirements. The eligibility requirements vary based on the level of education the applicant possesses.
Path 1:
Subscribe For Free Demo
[contact-form-7 404 "Not Found"]

A secondary degree (high school diploma, associate's degree, or global equivalent)Minimum of five years/60 months unique
non-overlapping professional project management experience during which at least 7,500 hours were spent leading and directing the project35 contact hours of formal education
Path 2:
A four-year degree (bachelor's degree or global equivalent)Minimum three years/36 months unique
non-overlapping professional project management experience during which at least 4,500 hours were
spent leading and directing the project35 contact hours of formal education
Pre-application tips to expedite the application process
Before beginning the application process it's a good idea to have the following items organized:
Documentation of your 35 hours of project management training from a Registered Education Provider (R.E.P.), like The Persimmon Group, or your local PMI chapter.
Copy of your diploma for the highest degree you've attained.
Names and contact information for references who can validate the hours and years of experience submitted in your application.
A list of your projects with the description and hours for each project. A simple spreadsheet works well in keeping your projects easily organized.
Tips for project documentation: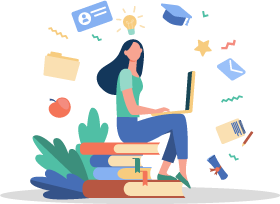 Get Accredited Pega Certification Course By Experts Training
Instructor-led Sessions
Real-life Case Studies
Assignments
Explore Curriculum
Each project description should start with the objective of the project.
Each project description should include the result of the project.
You don't have to have the formal title of Project Manager on each project, but you need to clearly demonstrate that you were the lead on the project.
Use abbreviations to maximize the characters available
How to Apply for the PMP® Exam
Step 1:
Become a member by joining online at PMI.org
It is prudent to become a PMI member before registering for the test. For PMI members, the cost to take the computerized test is $405.00. For non-members, the cost is $555.00. The discount makes up for the cost of membership, and membership affords you access to free electronic copies of the PMBOK® Guide and the Salary Report. Joining your local chapter usually requires paying an additional small annual fee. You can become a PMI "global" member without joining your local chapter.
Step 2:
Complete the Online Application
The easiest way to complete the application process is online, using PMI's online certification system. Once you've started the application, you have 90 days to complete it before you must start over again. Once you've submitted your application, you can keep coming back to the system to check on your application status.
The online application will ask you to enter the source of your 35 contact hours, the institutions and years in which you obtained your education and all your years and hours of experience. You will enter your years of experience as date ranges (for example: Aug 2011 to Jun 2012, Oct 2012 to Oct 2014, etc.). You will enter your project management hours by each project. For each project, you'll be asked to write a description of your role, a summary of the project, and the name of your supervisor/manager (or someone who, if audited, can vouch for your involvement on the project.) You'll also be asked to list the number of hours spent in each process group of the project. For example:
Helpful tips to keep in mind when completing the PMP application:
Your years of experience do not have to be consecutive.
One year of working 80-hour weeks still counts as just one year.
You do not need to have hours in every process group on every project.
Your 35 contact hours are different from the PDUs that you'll need to obtain to maintain your PMP credential. In other words, the 35 hours you used to obtain your PMP credential cannot then count towards the PDUs needed to maintain certification.
Step 3:
Wait for Confirmation of Receipt and Completeness of Application
Once you've submitted your application, PMI will review it for completeness. This could take up to five business days. Continue checking the site for updated status information about your application.
Step 4:
Submit Payment
Once your application has been processed, PMI will request payment. This can be done online.
Step 5.1:
Wait for Confirmation of Acceptance of Application
After submitting payment, PMI will review your application for content. After this stage of review, you may be flagged for an audit. You should know if you've been audited within seven business days. If you are not audited, you will be notified and prompted to register for the test.
Step 5.2:
Pega Sample Resumes! Download & Edit, Get Noticed by Top Employers!
Download
If You Are Audited…
You will have 90 days to submit your audit materials, which include copies of your diploma and any certificates you earned when you obtained your 35 contact hours. PMI will also provide you with a downloadable form that you'll need to print and give to your references. After completing the form, your references will need to either be sent directly to PMI® or given to you in a sealed envelope so that you can submit to PMI with the rest of your materials. If for some reason you do not pass the audit, PMI will refund your money (less a $100 processing fee.)
Step 6:
Take the Exam!
The computerized test is offered at Prometric sites across the country. There are no scheduled breaks during the four-hour exam, but you may leave at any time to take a break. Keep in mind, however, that the clock will still be ticking while you're in the bathroom! You'll need to bring a form of ID with you that includes your signature, a photograph, and the English language (or translation to English). You won't be able to bring calculators or scrap paper to the exam, but both will be provided to you upon arrival. The calculator is built into the computerized exam tools.
You will receive your score immediately after completing the exam. Your score will be presented to you as a "Pass or Fail" designation; you will not know the percentage of questions you answered correctly on the exam. You can take the test three times within one year. If you fail all three times you must wait one year before making another attempt.
Are you looking training with Right Jobs?
Contact Us