Top Important Cloud Computing Terms
Last updated on 10th Oct 2020, Artciles, Blog
cloud computing
Cloud computing is a general term for anything that involves delivering hosted services over the internet. These services are divided into three main categories: infrastructure as a service (IaaS), platform as a service (PaaS) and software as a service (SaaS).
A cloud can be private or public. A public cloud sells services to anyone on the internet. A private cloud is a proprietary network or a data center that supplies hosted services to a limited number of people, with certain access and permissions settings. Private or public, the goal of cloud computing is to provide easy, scalable access to computing resources and IT services.
Cloud computing vs. traditional web hosting :
A cloud service has three distinct characteristics that differentiate it from traditional web hosting:
Users can access large amounts of computing power on demand. It is typically sold by the minute or the hour.
It is elastic — a user can have as much or as little of a service as they want at any given time.
The service is fully managed by the provider (the consumer needs nothing but a personal computer and Internet access). Significant innovations in virtualization and distributed computing, as well as improved access to high-speed internet, have accelerated interest in cloud computing.
Subscribe For Free Demo
[contact-form-7 404 "Not Found"]
Cloud computing characteristics :
Some of the main benefits of cloud computing are:
Self-service provisioning: End users can spin up compute resources for almost any type of workload on demand. An end user can provision computing capabilities, such as server time and network storage, eliminating the traditional need for IT administrators to provision and manage compute resources.
Elasticity: Companies can freely scale up as computing needs increase, and scale down again as demands decrease. This eliminates the need for massive investments in local infrastructure, which may or may not remain active.
Pay per use: Compute resources are measured at a granular level, enabling users to pay only for the resources and workloads they use.
Workload resilience:
Cloud service providers often implement and to keep users' important workloads running — often across multiple global regions.
Migration flexibility:
Organizations can move certain workloads to or from the cloud — or to different cloud platforms — as desired or automatically — for better cost savings, or to use new services as they emerge.
Broad network access:
A user can access cloud data or upload data to the cloud from anywhere with an internet connection and using any device.
Multi-tenancy and resource pooling:
Multi-tenancy lets numerous customers share the same physical infrastructures or the same applications, yet still retain privacy and security over their own data. With resource pooling, cloud providers service numerous customers from the same physical resources. The resource pools of the cloud providers should be very large and flexible enough so they can service the requirements of multiple customers.
Cloud computing benefits :
Cloud computing boasts several attractive benefits for businesses and end users. Some of the main benefits of cloud computing are:
Cost savings:
Using cloud infrastructure can costs, as organizations don't have to spend massive amounts of money buying and maintaining equipment. This reduces their capital expenditure costs – as they don't have to invest in hardware, facilities, utilities or building large data centers to accommodate their growing businesses. Additionally, companies don't need large IT teams to handle cloud data center operations because they can rely on the expertise of their cloud providers' teams. Cloud computing also cuts costs related to downtime. Since downtime rarely happens in cloud computing, companies don't have to spend time and money to fix any issues that may be related to downtime.
Mobility:
Storing information in the cloud means that users can access it from anywhere with any device with just an internet connection. That means users don't have to carry around USB drives, an external hard drive or multiple CDs to access their data. Users can access corporate data via smartphones and other mobile devices, enabling remote employees to stay up to date with coworkers and customers. End users can easily process, store, retrieve and recover resources in the cloud. In addition, cloud vendors provide all the upgrades and updates automatically, saving time and effort.
Disaster recovery:
All organizations worry about data loss. Storing data in the cloud guarantees that users can always access their data even if their devices, e.g., laptops or smartphones, are inoperable. With cloud-based services, organizations can quickly recover their data in the event of emergencies, such as natural disasters or power outages.
Cloud computing deployment models :
Private cloud services are delivered from a business's data center to internal users. With a private cloud, an organization builds and maintains its own underlying cloud infrastructure. This model offers the versatility and convenience of the cloud, while preserving the management, control and security common to local data centers. Internal users may or may not be billed for services through. Common private cloud technologies and vendors include VMware and OpenStack.
In the model, a third-party cloud service provider delivers the cloud service over the internet. Public cloud services are sold on demand, typically by the minute or hour, though long-term commitments are available for many services. Customers only pay for the CPU cycles, storage they consume. Leading public cloud service providers include Amazon Web Services ,Microsoft,IBM and .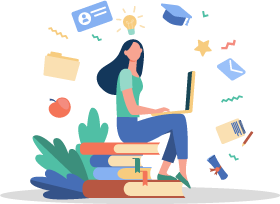 Enroll in Cloud Computing Training from Cloud Experts
Instructor-led Sessions
Real-life Case Studies
Assignments
Explore Curriculum
A combination of public cloud services and an on-premises private cloud, with and Companies can run mission-critical workloads or sensitive applications on the private cloud and use the public cloud to handle or spikes in demand. The goal of a hybrid cloud is to create a unified, automated, scalable environment that takes advantage of all that a public cloud infrastructure can provide, while still maintaining control over mission-critical data.
In addition, organizations are increasingly embracing amodel, or the use of multiple IaaS providers. This enables applications to migrate between different cloud providers or to even operate concurrently across two or more cloud providers.
Organizations for various reasons. For example, they could do so to minimize the risk of a cloud service outage or to take advantage of more competitive pricing from a particular provider. Multi-cloud implementation and application development can be a challenge because of the differences between cloud providers' services and application program interfaces.
Multi-cloud deployments should become easier, however, as providers' services and APIs converge and become more standardized through industry initiatives such as the Open Cloud Computing Interface.
A community cloud, which is shared by several organizations, supports a particular community that shares the same concerns, (e.g., the same mission, policy, security requirements and compliance considerations). A community cloud is either managed by these organizations or a third-party vendor and can be on or off premises.
Types of cloud computing services :
As mentioned previously, cloud computing can be separated into three general service categories:
Infrastructure as a service. IaaS providers, such as AWS, supply a instance and storage, as well as APIs that let users migrate workloads to a virtual machine. Users have an allocated storage capacity and can start, stop, access and configure the VM and storage as desired. IaaS providers offer small, medium, large, extra-large and memory- or compute-optimized instances, in addition to customized instances, for various workload needs.
Platform as a service. In the PaaS model, cloud providers host development tools on their infrastructures. Users access these tools over the internet using APIs, web portals or gateway software. PaaS is used for general software development, and many PaaS providers host the software after it's developed. Common PaaS providers include Salesforce's Lightning Platform, AWS Elastic Beanstalk and Google App Engine.
Software as a service. SaaS is a distribution model that delivers software applications over the internet; these applications are often called Users can access SaaS applications and services from any location using a computer or mobile device that has internet access. In the SaaS model, users gain access to application software and databases. One common example of a SaaS application is Microsoft Office 365 for productivity and email services.
Emerging cloud technologies and services :
Due to competition, providers must constantly expand their services to differentiate their services. This has led public IaaS providers to offer far more than common compute and storage instances.
For example, serverless, or event-driven computing is a cloud service that executes specific functions, such as image processing and database updates. Traditional cloud deployments require users to establish a compute instance and load code into that instance. Then, the user decides how long to run — and pay for — that instance.
With developers simply create code, and the cloud provider loads and executes that code in response to real-world events, so users don't have to worry about the server or instance aspect of the cloud deployment. Users only pay for the number of transactions that the function executes., Google Cloud Functions and Azure Functions are examples of serverless computing services.
Public cloud computing also lends itself well to big data processing, which demands enormous compute resources for relatively short durations. Cloud providers have responded with big data services, including for large-scale data warehousing and Microsoft Azure Data Lake Analytics for processing huge data sets.
Another crop of emerging cloud technologies and services relates to. These technologies provide a range of cloud-based, ready-to-use AI and machine learning services for client needs. Amazon Machine Learning, Amazon Lex, Google Cloud Machine Learning Engine and Google Cloud Speech API are examples of these services.
Cloud computing security :
Security remains a primary concern for businesses contemplating cloud adoption — especially public cloud adoption. Public cloud service providers share their underlying hardware infrastructure between numerous customers, as the public cloud is a multi-tenant environment. This environment demands significant isolation between logical compute resources. At the same time, access to public cloud storage and compute resources is guarded by account login credentials.
Many organizations bound by complex regulatory obligations and governance standards are still hesitant to place data or workloads in the public cloud for fear of outages, loss or theft. However, this resistance is fading, as logical isolation has proven reliable, and the addition of dataand varioustools have improved security within the public cloud.
AWS Sample Resumes! Download & Edit, Get Noticed by Top Employers!
Download
Future of cloud computing :
Over 30 percent of enterprise IT decision-makers identified public cloud as their top priority in 2019, according to the "RightScale 2019 State of the CloudReport." Still, enterprise adoption of the public cloud, especially for mission-critical applications, hasn't been happening as quickly as many experts had predicted.
In 2020, however, organizations are likely to migrate mission-critical workloads to public clouds. One of the reasons for this shift is that business executives who want to ensure that their companies can compete in the new world of digital transformation are demanding the public cloud.
Business leaders are also looking to the public cloud to take advantage of its elasticity, modernize internal computer systems and empower critical business units and their DevOps teams.
Additionally, cloud providers, such as IBM and VMware, are concentrating on meeting the needs of enterprise IT, in part by removing the barriers to public cloud adoption that caused IT decision-makers to shy away from fully embracing the public cloud previously.
Generally, when contemplating cloud adoption, many enterprises have been mainly focused on new cloud-native applications. They haven't been willing to move their most mission-critical apps into the public cloud. However, these enterprises are now beginning to realize that the cloud is ready for the enterprise if they select the right cloud platforms, i.e., those that have a history of serving the needs of the enterprise.
Are you looking training with Right Jobs?
Contact Us