SEO Interview Questions and Answers
Last updated on 24th Oct 2020, Blog, Interview Question
Due to the huge factor played by the internet and search engines in this age of technology, SEO is an integral part of marketing for businesses having an online presence. SEO helps business owners create fast and robust websites that are not just user-friendly but also rank higher in search engines. This, in turn, brings potential customers to their sites and eventually led to better conversion rates. SEO is an extremely reliable way to gain traffic is to achieve a higher rank.
1. What is SEO? Explain in your own words?
Ans:
Process to enhance the website presence in front of search engines to increase the website traffic & ranking of your website.
2. Explain Types of SEO –
Ans:
There are two types of SEO
What is On-Page SEO?
To rank pages higher in search engine results pages (SERP.
we need to optimize the On-page seo of the website. In on-page seo, we make changes in the Meta Tags, by optimizing the right keywords on the webpage, doing internal linking and optimizing headers tags as well.
On-page optimization work is to make the website seo and user-friendly so that search engines can index the website easily and can rank on search results pages highly.
What is Off-Page SEO?
Off-page techniques in seo are to building the links from other authority sites so that we can increase ranking & traffic of the website in search engine results pages.
3. Explain seo tools you used in daily ?
Ans:
Analytics to track the traffic, and the number of conversion/leads we get on the website.
Search Console to keep track of the errors on the site, to check the backlinks, and search queries that driving the traffic to the website.
4. What is a backlink?
Ans:
A link pointing from another website to our website is called a backlink.
Types of backlink –
Nofollow Links
Nofollow Links
Dofollow links are those links that search engine counts as a vote to your website. Dofollow backlinks help your website increasing in ranking & domain authority of the website.
Nofollow links are those links that search engine doesn't count as a vote. Nofollow links give little or no impacts on your website ranking and authority.
5. Explain how Googlebot works?
Ans:
Googlebot is a software program that first visits your website, crawls all the webpages and collects the information, and keeps all the pages into the Google index.
6. What is the robots.txt file?
Ans:
Text file that uses to allow or block unwanted pages from google index. As GoogleBot first visits the robots.txt file to check the permission.
That what pages allowed to crawl and what pages are restricted. And based on the permission in robots.txt file, GoogleBot starts crawling the website.
7. Could you explain about Meta Tags and the importance of Meta Tags?
Ans:
Meta Title Tag –
We use the title tags to describe our webpage content. By using primary key words in the title tag, it gives the signals to search engines that this is page is about that topic. So by optimizing the title tag, we must use our primary keyword in the title tag.
Meta Description Tag –
We use the meta description tag to summarize our webpage content. The meta description tag appears under the listing in search result pages.
Perfect and optimized meta description tag helps the user understand what is inside the web page and improve them click on our listing as well.
Header Tags –
From H1 to H6, these are called headers tags. Headers tags mainly used in the content to distinguish headings (h1. and sub-headings (h2-h6. of a page from the rest of the content. So that users can scan & navigate easily through the page.
Alt Tags –
Search engines can't read and understand the image. So to make it easy to understand the search engines, about the images we use ALT Tags.
With the help of ALT tags, the search engine can quickly know about the image and can also rank our images in google image search as well.
8. Why is the sitemap used for the website?
Ans:
A sitemap is the file of all the essential links. By adding a sitemap on the website, it helps the search engine to crawl these URLs on a priority basis, and these are all important URL of the website
9. What is the search console & the importance of search console in seo?
Ans:
Search console mainly used to keep track of website technical seo issues & errors of the website.
Importance of Search Console –
Know which queries are driving traffic and click on your website
Know how many pages indexed or excluded in search result pages
Know if your website is hacked or is there any manual action on your website.
Know which website links to you.
10. What is SEO friendly URL?
Ans:
SEO friendly URL are those URLs having a proper length & keywords optimized. Keep your URL in between 50 to 60 characters.
Avoid underscore instead of use hyphen, and make sure there shouldn't too many keywords in the URL, avoid category & session ids in the URLs as well.
11. In the robots.txt file, what does the "Disallow:" line do?
Ans:
Tells the robot what URLs not to scan on the website.
Subscribe For Free Demo
[contact-form-7 404 "Not Found"]
12. What is search engine spam?
Ans:
Any attempt to deceive a search engine's relevancy algorithm or broke google webmaster guidelines is called search engine spam.
13. What are STOP words in SEO?
Ans:
Search engines do not index some common words (such as "or," "and," "when," and "in". within the webpage. Thus always try to avoid these STOP words, including in the Meta Tags & URLs.
14. How do you eliminate duplicate content from being indexed by Google?
Ans:
Using the canonical tag on the webpages.
15. Which form of redirect transfers the most authority to the redirected page?
Ans:
301 redirection transfers up to 90-99% link equity to the redirected page.
16. What do the acronyms PA, DA, and PR stand for?
Ans:
PA – Page authority, DA – Domain Authority, PA – Page Rank
17. What are Seed Keywords?
Ans:
A list of keywords or phrases that you come up with via brainstorming is called seed keywords.
18. What things do you consider while selecting keywords for any seo campaign?
Ans:
Effective keywords research is one of the first essential things for any successful seo campaign. So while selecting keywords at first, analyze and check your domain strength.
For example – If the domain is new, then it's not a good idea to choose the competitive keywords because you need to build authority for the website first so that it can rank and compete with the competitive keywords.
For new domains, start with the long-tail keywords and low competition with high search volume keywords first.
If you have established domain, then you can start playing with competitive keywords, but make sure your keyword bucket list should be filled with different keywords ideas as well.
Mean to say you can play both with the competitive & long tails keywords for the authoritative domain.
19. What is a competitive analysis in seo?
Ans:
Competitive analysis is to find the loophole, in between your website and the website is already ranking highly in search result pages. So by optimizing our website as per our competitions, we could also rank higher in SERP.
20. Explain is 301 or 302 redirection?
Ans:
301 redirection means redirecting the domain or page permanently from one domain/page to another page.
302 redirection means redirecting the domain/page temporarily to another domain/page.
21. What is the DA/PA in SEO?
Ans:
DA- (Domain authority) :
The number of backlinks pointing to the website help increasing in domain authority. DA is a term coined by Moz DA predicts how well a website will rank on SERP.
PA – (page authority) :
The number of backlinks pointing to the particular page help increasing in page authority. The strong the pa is, the more chances to rank the page higher in SERP.
22. How to create a website Search engine friendly?
Ans:
To make the website seo friendly first, make sure website structure, content quality, meta tags & keywords should be appropriately optimized.
23. What are rich snippets?
Ans:
By using structured data markup, it helps the search engine to understand the content of the page. And due to this search engine, show additional information in search result pages under the listing.
For example, star rating under the search results.
24. What are accelerated mobile pages (AMP)?
Ans:
AMP pages are designed to load quickly on mobile devices. AMP pages help increase user engagement by loading fastly on mobile devices.
AMP pages help the user to stay for a longer time on the webpage, but if the content is not high quality, you will see a decrease in user engagement.
25. Explain some of the Most Important SEO Ranking Factors?
Ans:
Mobile-friendliness
A secure website
Optimized Content
Technical SEO
Links
Social Signals
26. Most Important SEO Ranking Factors are –
Ans:
Mobile-friendliness
More than 80% of visitors use mobile, so to optimize the website for mobile devices should be your priority.
A secure website –
Make sure your website should have installed the SSL certificate, as it impacts your search engine ranking a little bit.
Optimized Content – Content on your website is optimized correctly for the keywords, but as well, it should be well written and user problem-solving.
Technical SEO –
Make sure your site architecture, robots.txt, sitemap, and canonical issues should be fixed.
Links –
Build quality links. It helps increasing domain authority and boost your site ranking in front of SERP as well.
Social Signals –
Establish your accounts on social channels and reach and target the right audiences. As much social engagement, you will generate on social media, it gives more signals to search engines that your content is relevant and excellent, and search engines boost the ranking.
There is no direct link between Social shares and search engine ranking. But in a study found that highly ranked content in SERP correlates with higher social sharing as well.
27. What does the site: command do?
Ans:
To know how many & what type of links are indexed by google.
Through site:command, you could quickly know that are all the essential URLs are crawled by the search engine or not.
And if you found any unwanted URLs which you do not want to crawl, you can make a list and block them. So that only relevant URLs are indexed by google.
28. How do you measure the Success of Your SEO Efforts?
Ans:
First, set the goals & KPIs, and based on this, you will keep track of these statistics.
If your goals and KPIs are want to increase ranking & traffic, then you must need to analyze the statistics for both.
To analyze the traffic, you can use analytics and track the ranking of the keywords you can use any paid tools, or even you can check manually as well.
So to measure the success of your seo efforts, you must set the goals and KPI and keep track of that.
29. How can you optimize an E-commerce website which has millions of pages?
Ans:
First thing, I will do a thorough analysis of the website pages. After the review, I'll focus on below things first –
Segregate the Pages in Three categories.
Top Performing Pages, Low Performing Pages, and Zero Performing pages as per the website traffic.
Start the optimizing Low Performing pages as these are low hanging fruits. If you optimize them correctly, you will start seeing the results soon & later focus on Zero Performing pages.
30. What will be your next steps if your SEO methods or technique does not work?
Ans:
At first, make sure you should have set up the right Goals & KPI correctly.
My steps will be as below –
Is my site indexed in search engines or not. (Use the site: command.
Check the seo news site, is there any new algorithm update in Google.
Check the analytics for any traffic drop.
Check the search console for any manual action or hacking related issues.
Do a thorough website technical seo audit.
Analyze your competitors to get the ideas that are working for them or not.
I am sure if you follow the steps mentioned above, you will find any clue that why are your seo method or techniques are not working.
Make sure to keep up to date yourself with new seo trends strategies and algorithm updates to stay away from these situations.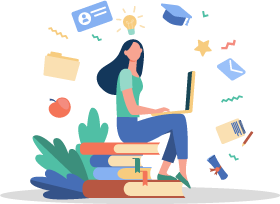 Best In-Depth Practical Oriented SEO Training By Experts Trainers
Instructor-led Sessions
Real-life Case Studies
Assignments
Explore Curriculum
31. What is the canonical Issue?
Ans:
The same content on multiple URLs and all the URLs are accessible by search engines.
For example – http://abc.com/, https://abc.com/, https://www.abc.com/, http://www.abc.com/
Identify the pages and put the 301 redirections.
And on every page, make sure to add a self canonical tag so that the search engine considers only that page unique page and gives more weight to that page than other pages.
32. What are Calls to Action in Copywriting?
Ans:
References in the copy are requesting visitors to take a particular action on a site.
Example – Book an Appointment/ Get a Quote/ Contact Us etc.
33. How many H1 tags are recommended per page?
Ans:
Only 1 H1 Tag should be used on a single page describing the main content of the webpage.
34. What is Breadcrumb?
Ans:
A row of internal links at the top of the page that allows visitors to quickly navigate back to a previous section or the root page.
35. Which is more likely to have a positive impact on a page's search engine rankings?
Ans:
One link, each from 10 different websites with related content, will positively impact on search rankings.
36. What will you do? If you find that people are accessing the same content through multiple URLs?
Ans:
Setting up a 301 redirect from non-preferred URLs to the dominant URL is the right solution to fix the same content on multiple URLs.
37. What is a 404 page?
Ans:
A page that shows up when the selected page is not available is called the 404 pages.
38. Which of the following website design guideline has been recommended by Google?
Ans:
Having a clear hierarchy and text links.
39. Why would you obtain an SSL certificate for SEO purposes?
Ans:
Because Google will prefer your website over others if you offer a secure connection, and it builds Trust in front of the user.
40. What is the first step for online marketing?
Ans:
Identify goals and objectives is the first step for online marketing.
41. What is niche marketing?
Ans:
Marketing to a target group of users who share common characteristics and are likely to buy your products.
Digital Marketing Sample Resumes! Download & Edit, Get Noticed by Top Employers!
Download
42. What is the difference between search engine marketing (SEM. and Search Engine Optimization (SEO.?
Ans:
Difference Between SEO and SEM– SEM Campaigns are designed to utilize both Paid and Organic methodologies to promote businesses, while SEO only promotes traffic through organic search.
43. Why are internal links important?
Ans:
The number of internal links pointing to a page is a signal to search engines about the relative importance of that page.
44. Why should you disavow links to your website?
Ans:
You can remove spammy or low-quality links from a website that may negatively affect your PageRank.
Are you looking training with Right Jobs?
Contact Us