The Future of Cloud Computing
Last updated on 30th Sep 2020, Artciles, Blog
Today, we can connect everything digitally to Cloud Computing. It provides a whole new world of jobs, applications, services, and platforms. We can see the future of Cloud computing as a combination of cloud-based software products and on-premises computers which will help to create hybrid IT solutions.
The modified cloud is scalable and flexible, which will provide security and control over the data center. One of the integral parts of cloud computing will be the organized process and a better way of processing data. Cloud has many features, which makes its future brighter in the IT sector. Below are some trends or predictions for Cloud computing. Let's explore to see how Cloud will be better for business.
What is the Future of Cloud Computing?
No one can tell the future, but we can predict it, by analyzing the current trends and usage. Below, are some prediction about Cloud computing:
Subscribe For Free Demo
[contact-form-7 404 "Not Found"]
1. Increase Storage Capacity
Today, data is generated in a high volume and it's difficult to store it with security. Most of the companies require a place where they can securely store their data. So many businesses are adopting cloud computing and it has been predicted that the Cloud providers will provide more data centers at a lower price as there is a large competition between them. With the help of the more in your company will be able to store the data.
2. Enhanced Performance of Internet
With the help of the Internet of Things, the quality of the internet can be increased. With the help of the IoT and Cloud Computing, we can store data in the cloud, for further analysis & provide enhanced performance. The users expect high-quality fast-loading services and applications. The network provided will be faster and the ability to receive and deliver that data will be quick.
3. Modular Software Will Be Priority
The size of an individual program along with the complexity is increasing regularly. This leads to the fact that Cloud technology will soon require advanced system thinking. We can see software development from many angles because in the future applications will store in places other than the cloud. This application will store on different modules, on servers of different Cloud Service.
This can also reduce the cost of software as placing components of the program on different storage is economical.
4. Internet of Things Along With Cloud Computing
The internet of things is also one of the leading technologies as it comes with continuous innovation in real time Data Analytics and cloud computing. There are many machine-to-machine communication, data, and process occurring. We can do it easily with the help of cloud computing.
5. Data Shows How Future Changes
The cloud computing market is growing at 22.8 percent and will exceed $127.5 after 2018. By 2018, 62% of all CRM software will be cloud-based. Moreover, 30% of all application spending is for software as a service based applications.
6. Improvement in Cloud Services
Cloud Computing includes:
1. Infrastructure as a service
2. Platform as a service
3. Software as a service
With this service, we can achieve our desired goals. There are many researchers which have proved that Cloud Computing will be one of the leading technologies in the future as the software as a service solution will account for more than 60% of the workload. It also has been predicted that the platform as a service and infrastructure as a service will increase gradually as it has been used in most of the organizations. Cloud Computing is user-friendly and is compatible for both new as well as old organizations.
7. Security
The data which are stored in the cloud is secure but not fully. The small companies which are providing cloud services may or may not provide proper security to the data. So in the future, we can prevent cyber attacks by providing better security. The cloud providers provide better security measures opening balance ways to prevent cyber attacks.
8. Modular Software
Companies are using much software, which is yet to modify. This leads to the fact that cloud computing requires modified software, which will provide better security and facilities. This software will be more user-friendly and flexible to use. One of the major advantages of this software will be that it will save the overall cost as well as time. We can see from the below graph, companies providing services and software are also improving.
9. Economic
If cloud computing continues to evolve, the use of hardware will be less as most of the work will be done with the help of cloud computing and virtualization. We can save the setup cost of software by dividing it and this will lead to decreasing the use of hardware. If the evolution continues the data stored in the cloud will get analyzed with the help of a machine and it won't require any human help.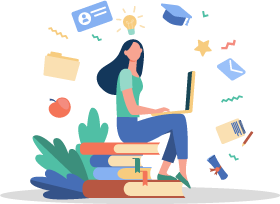 Enhance Your Career with Cloud Computing Training from Certified Experts
Instructor-led Sessions
Real-life Case Studies
Assignments
Explore Curriculum
Summary of Future of Cloud Computing
Businesses nowadays are seeking innovative ways to grow and accomplish their business goals. With the help of cloud computing, this business will keep on growing in the future. Cloud computing is powerful and expansive and will continue to grow in the future and provide many benefits. Cloud computing is extremely cost-effective and companies can use it for their growth. The future of cloud computing is bright and will provide benefits to both the host and the customer. One should keep in mind that the owner of the company should be familiar with the latest development taking place in Cloud technology.
Major application scope of cloud computing
As cloud computing becomes mainstream, organizations are now moving toward adopting it into the in-house processes. As such, almost all industries are witnessing an increase in the use of cloud-based platforms and services.
Cloud computing in marketing platforms: HubSpot, Adobe Marketing Cloud
Traditionally, all the marketing data/metrics (including campaign stats, strategy plan, number of engagement, etc.) were collected and reported separately. A marketer had to sit down with an analyst to connect all the dots to come up with a detailed picture that could then be used for setting up a future course of action.
A cloud-based marketing platform is an end-to-end digital marketing platform that integrates with marketing tools such as emails, analytics tools, and social management measurement tools. All integrated data helps marketers build and optimize marketing strategies. The cloud-based marketing solution also simplifies the execution and management of multi-channel campaigns (social media, mobile, email, and web).
The purpose of the marketing cloud platform is to help develop a great marketing strategy, improve customer engagement, and increase return on investment.
Cloud computing in education: SlideRocket, Ratatype, Amazon Web Services
Gone are the days when the search for information required a library. These days, digitally-enabled classrooms allow students to create and submit presentations online; attend classes remotely through web conferencing; and collaborate and participate in globally distributed projects.
Cloud computing in healthcare: ClearDATA, Dell's Secure Healthcare Cloud, IBM Cloud
Hospital records before the era of cloud-based health management systems were notorious for their bulk. To figure out a course of treatment, hospital staff has to wade through a mountain of forms and files to discover patient history from paper files. Fast forward to today, all data is on secure cloud solutions. Information sharing and access among all relevant stakeholders (medical professionals and insurance) is a breeze.
Cloud-based solutions ensure excellent and timely treatment without unnecessary delays. Recently a remote surgery was performed from thousands of miles away. Such innovation could revolutionize the healthcare industry. The future is bright for cloud computing. Analysts at IDC estimate that the field will evolve rapidly in the coming years, with almost 75% of data operations will be carried out outside the normal data center. Moreover, 40% of organizations will deploy cloud technology, with edge computing becoming an integral part of the technological setup. Also, a quarter of end-point devices will be ready to execute AI algorithms by the year 2022.
Cloud computing will change the way we work
Cloud computing facilitates businesses to focus on achieving their goals, with performance at the core, without any fuss. When a five-pronged cloud computing phenomenon that leverages flexibility, agility, security, mobility, and scalability combines with existing processes, the level of business' performance rises to a new level. The idea is to help businesses get computational power they need, and how they want it to work for them, and move on.
Software development agencies
Software development agencies tend to follow the agile framework. With a launch-and-learn mindset working to their advantage, they work on continuous integration of processes and delivery, meanwhile, publishing many open-source software.
Online security firms
Online security firms are now using the zero-trust enterprise security model from Google, instead of the traditional firewall standards. This practice has led them to let users work remotely from any location on Earth, with approved devices. With a managed hosting service working behind-the-scenes, users do not have to bother about the network level access to secure their devices. Therefore, the device's security remains intact.
Data analytics firms
Data analytics firms now work on continuous data to help businesses make informed decisions. The data is first fed into a machine learning system to get better results out of it. Today, every process has become 'continuous'. This means we can't label any process or product as 'completely finished'.
Even the transition into this new digital world is a continuous journey. There are always updates and iterations being released by the organizations, thus testifying the process is in a continuous flow.
AWS Sample Resumes! Download & Edit, Get Noticed by Top Employers!
Download
Similarly, security is not a fixed process, but rather it is a steady flow of events, an ongoing practice that demands continuous upgrades. Also, data analytics is not just faster, but iterative. That being said, cloud computing calls for not just working faster, but working in a more efficient way. This is why cloud computing unleashes a completely new set of possibilities to think about and work within the technological environment.
This fact brings us to the point that technological transition has created a strong social impact, both within the organizations and the people whom these businesses work with.
Document sharing is one of the best examples of how collaborative technology works. It favors the continuous process of writing, editing, commenting, and publishing a document. Similarly, developing videos with a click of a button has strengthened the value of communication, thereby speeding up the actions.
Are you looking training with Right Jobs?
Contact Us