Digital Marketing Certification Process
Last updated on 30th Sep 2020, Artciles, Blog
The OMCP® digital marketing certification is awarded to professionals who have verified experience, extensive training, and have demonstrated knowledge of digital marketing best practices across multiple digital marketing disciplines. Over 900 universities and training institutes teach to OMCP standards worldwide. Thousands of leading companies prefer to hire professionals with OMCA and OMCP credentials.
Benefits of OMCP certification
Individuals who earn the OMCP certification:
Stand out to employers and clients as having verified digital marketing skills, education, and experience
Are in demand as specialists, leaders, and accredited instructors
Earn between 16-26% more than non-certified digital marketers
Operate more effectively as a marketing professional, sharing common language and generally accepted practices across multiple disciplines and in at least two specialty disciplines
Subscribe For Free Demo
[contact-form-7 404 "Not Found"]

Teams and agencies that hire and train to OMCA and OMCP digital marketing standards lead the industry in marketing performance.
Three steps to OMCP Certification:
1. Ensure you have the required experience and education
There is no prerequisite to take OMCP exams, but if you are pursuing OMCP certification, ensure you have minimum experience, and education. OMCP certification requires:
Passing scores on the OMCP exams AND:
5,000 hours experience OR a post-secondary degree plus 2,000 hours experience OR completion of an approved digital marketing course plus 1,000 hours experience.
For more in-depth information about requirements, certification, and exams, see this Certification FAQ or  download the OMCP Certification Handbook.
If you meet the qualifications,open a free account with OMCP where you'll set your goals for certification, track your status, and upload proof of completion for your certification evaluation. Based on your choices, you'll receive a confirmation with specific requirements, tips and encouragement from hiring managers, and messages from certified marketers who are currently experiencing the benefits of OMCP certification earned years ago.
2. Pass your OMCP exams
An OMCP must pass two specialty exams and one broad-spectrum digital marketing exam. The OMCP Exam is proctored online, so there's no need to travel or wait.
Register for your OMCP Exams ▶
Once you have completed your OMCP exams, upload your credentials for final approval for certification.
3. Request your certification review
To apply for certification status, upload your proof, and after a successful review by OMCP staff, get a confirmed certification status.
Frequently-Asked Questions about OMCP Certification:
How and where do I take the exams?
The OMCP Exams are proctored online, so there's no need to travel. Exams can be scheduled to be taken at any time and from anywhere the exam taker has a reliable internet connection.
To sit for your exams, you must have a web camera and a microphone so you and your proctor may communicate. Resources of any kind are not allowed during the exam. This includes, books, notes, access to online information, texts, chats, or phone calls, or having another person in the room while the exam is happening.
How do I prepare for the OMCP exam?
Planning ahead for your exam will help ensure that you have the best chance to be successful and that the exam process works smoothly for you.
Preparation for the OMCP exam must include a combination of practical experience in online marketing coupled with continuing education in recent accepted practices. No course or published book will completely prepare a candidate to pass the OMCP exam. The minimum recommended preparation for the OMCP exam includes 1,000 hours of online marketing experience that includes conceptual understanding of at least six online marketing disciplines, coupled with 64 didactic hours in OMCP-Approved Courses covering two specific disciplines. Candidates with more practical experience may need less education, and candidates with more education may not need as much practical experience. In most cases, a balanced combination of experience and up-to-date education is essential.
The OMCP Exam structure comprises base-knowledge questions which test conceptual knowledge across multiple online marketing disciplines, plus two additional sections that focus on generally accepted practices in specific core disciplines.
The following online marketing disciplines are supported by the most recent OMCP Role Delineation Study, are considered core to OMCP certification, and determine the content of the OMCP exam sections:
1. Content Marketing
2. Conversion Rate Optimization
3. Email Marketing (included within OMCA and OMCP Base exams only)
4. Mobile Marketing (included within OMCA and OMCP Base exams only)
5. Paid Search (PPC)
6. Search Engine Optimization (SEO)
7. Social Media Marketing
8. Digital Analytics
What is the cost of the OMCP exams?
The OMCP exam fee is US $395 for all three parts, payable upon registration. The fee covers online proctoring and the exam delivery systems. In the event that a retake of any part of the exam is necessary, the OMCP base-knowledge exam retake fee is $225 and the OMCP skills-exam retake fee is $150 per skill-exam. There is currently no cost for application for certification of individuals, though this may change in the future.
How long will OMCP certification last?
Because of the rapid changes in digital marketing, OMCP Certifications last two years when renewed with PDUs. To gain two years of certification, the candidate must use one of the following methods to gain the full two years:
1. Extend the certification for the second year by participating in recognized organizations, events, training programs, and communities to earn Professional Development Units (PDUs).
2. Renew the certificate for the additional year by passing the OMCP exam.
Currently, accrual of 100 PDUs during the year is required for extension. Completion of PDU events must have occurred within 90 days of renewal date to be considered for renewal.
To submit PDUs for OMCP Re-Certification, simply provide the necessary verification for review through your member dashboard.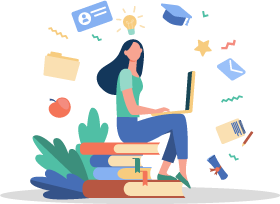 Get In-Depth Knowledge in Digital Marketing Training From Expert Trainers
Instructor-led Sessions
Real-life Case Studies
Assignments
Explore Curriculum
DIGITAL MARKETING
The Best Digital Marketing Certificate Programs of 2020
Are digital marketing certificate programs a good way to learn digital marketing on your own? Do you have more chances of getting hired if you're a holder of a certification or a complete waste of time?
We did our research and in this guide, you'll learn everything you need to know about digital marketing certifications.
I will explain the benefits of becoming digital marketing certified, how the process works, and which are the best digital marketing certifications you can purse in 2020.
The list includes certificate programs offered by reputable online academies, marketing organizations, and Universities.
What is a Digital Marketing Certificate?
Is a Digital Marketing Certificate Worth It?
Can I Get a Digital Marketing Certification Online?
Top Digital Marketing Certifications for 2020
What Jobs Can You Get with a Digital Marketing Certificate?
Digital Marketing Certifications: The Bottom Line
What is a Digital Marketing Certificate?
A digital marketing certification is awarded to individuals upon successfully completing the requirements of an online digital marketing course. It's a way to verify the skills and education of the holder in regards to digital marketing techniques and strategies.
Certified marketers can use the certification to distinguish themselves from other marketers and employers or clients to make informed decisions.
A digital marketing certificate is not the same as a digital marketing degree. You can get a degree in digital marketing by attending a regular university program (classroom training, usually four-years), and obtain a Bachelors's or a Master's.
Is a Digital Marketing Certificate Worth It?
Yes, pursuing a digital marketing certification is worth it and I'll explain below the benefits and value of becoming a certified digital marketer.
Best way to learn digital marketing on your own
Digital marketing certifications are a great way to learn digital marketing on your own. Instead of spending your time looking for clues on how the different pieces that make up digital marketing work together, you can enroll in an online marketing course and get structured education.
Get a plan to follow
Good courses come with a learning plan and step-by-step instructions and this makes learning faster and more effective than reading random blog posts or watching unrelated YouTube videos.
Learn from the experts
When you enroll in an online marketing certificate program that is taught by experienced digital marketers (like the ones listed below), you'll not only learn the theory of digital marketing but how it can be applied to practice.
Digital marketing is a highly practical discipline and trainers that have years of working experience in the industry can teach what you need to know and not what you should know.
Prove your professional skills
Getting a digital marketing certification does not automatically make you an expert but it's a step towards the right direction. To become an expert, you need to have years of working experience with digital marketing campaigns and success stories to share.
If you're starting out now and have no working experience, a certificate shows to potential employers and clients that you have the necessary skills and determination to become a successful digital marketing specialist. It's a great asset to your CV and for your career.
Stay on top of new developments
Popular certification programs are updated regularly to include the latest digital marketing trends and practices. When you enroll in a program make sure that the material has been updated recently.
Can I Get a Digital Marketing Certification Online?
There are many ways you can get a digital marketing certificate, one of them is through online training. Most of the certifications listed below are taught using online on-demand training. This means that you can follow the lessons online at your own pace and time.
Digital Marketing Sample Resumes! Download & Edit, Get Noticed by Top Employers!
Download
Top Digital Marketing Certifications of 2020
These are the best digital marketing certificates you can pursue and get certified in digital marketing.
Google Digital Garage
Reliablesoft Academy
Harvard Extension School
Duke Continuing Studies
Digital Marketing Institute
Simplilearn
Coursera (University of Illinois)
Online Marketing Certified Professional (OMCP)
Linkedin Learning
American Marketing Association (AMA)
Are you looking training with Right Jobs?
Contact Us