Top Ethical Hacking Certifications
Last updated on 26th Sep 2020, Artciles, Blog
With the rapid development of IT technologies, hackers have become an integral part of this process. We keep hearing about computer security destroyers and the problems they cause from time to time. And these hackers cause many destructive problems making it difficult for other users to use the Internet safely. But have you ever heard of ethical hackers?
Who is an ethical hacker? What is the main difference from a computer hacker?
Well, they are hackers…but much more of the "good guys" than the usual destructive hackers. The ethical hackers are individuals who hack into computer networks in order to assess or evaluate its security rather than with an intention for maliciousness or for a criminal act. They are also known as white hat hackers who use hacking techniques in a legitimate and lawful manner. While regular hackers also termed as 'black hat hackers' use the process of hacking for a destructive purpose such as for phishing purposes. This is the major difference between an ethical hacker and a computer hacker.
Subscribe For Free Demo
[contact-form-7 404 "Not Found"]
What does an ethical hacker do?
An ethical hacker mainly does scanning ports by looking for vulnerabilities.
Another main job of ethical hackers is to check patch settings and ensure that these installations cannot be misused. The hackers can participate in social engineering concepts like diving-diving or scavenging in bins for charts or passwords that can be used to engender an attack.
Ethical hackers avoid Intrusion Detection and Prevention systems.
Additionally, an ethical hacker bypasses and hacks wireless encryption as well as hijacks web applications and web servers.
Ethical hackers handle problems associated with the theft of laptops and fraud with employees.
Who can be an ethical hacker?
A person with good and enough knowledge in programming and networking may go a long way in the field of white hat hackers. This is best for individuals who work as forensic or intrusion analysts, security professionals, or individuals aiming to take these job roles.
What is an Ethical Hacking certification?
This is a qualification obtained by evaluating the security of computer systems, using penetration testing methods. This certification qualifies an individual as a certified ethical hacker. It helps you think like a hacker. There are multiple benefits of holding an ethical hacking certification:
It helps understand risks and vulnerabilities affecting the organizations on a daily basis.
It shows the tools of trade. Your misconceptions about hacking will definitely be solved. That is, after this certification, you will get a general idea about how and what a white hacker's job role will be.
Also, you'll understand that the concept of hacking is much more than just merely hacking into another individual's Facebook or email accounts.
Through this certification, you will learn various types of foot-printing, countermeasures and foot-printing tools. You can also discover what packet sniffing methods are and how to shield against sniffing.
This cert will teach you the network scanning and enumeration techniques as well as network scanning and enumeration countermeasures. As an ethical hacker certification holder, you can also develop your skill in Trojans, Trojan countermeasures and Trojan analysis.
You will develop your knowledge in the field of system hacking and hijacking methods, steganography, steganalysis, covering tracks, virus analysis, the working of viruses, malware analysis procedure, computer worms and countermeasures.
And finally, you'll learn how the exploits evolve.
Top 7 Ethical Hacking Certifications
1. Certified Ethical Hacking Certification
CEH is one among the oldest, most popular and superlative certification programs that can be provided for ethical hackers. A person who has acquired a certificate in this course would be a skilled professional who can understand how to look at vulnerabilities and weaknesses in target systems and uses the identical knowledge and tools as a malicious hacker but in a more legit and lawful manner so as to evaluate the security posture of a target system.
The CEH qualification confirms that individuals as certified in the specific network security discipline of Ethical Hacking from a vendor-neutral standpoint. It informs the public that the certified individual meets minimum criteria. It also helps reinforce ethical hacking as an exclusive and self-regulating profession. This course will help you to think into the mindset of a hacker. After all, if you need to be a hacker, you need to think like one! This will enable you to defend against future attacks. This course will put you in control with a hands-on environment with a systematic process. You will definitely be exposed to a totally different way of attaining optimum information security posture in their organization. That is by hacking it. You will be taught the phases of hacking as mentioned earlier. And the objective of this course is to assist you to grasp the ethical hacking methods that can be used in a penetration testing or ethical hacking situation. Earning this internationally recognized cert means obtaining ethical hacking knowledge and skills that are in high demand now.
2. GIAC Penetration Tester
SANS GPEN is another type of certification provided under ethical hacking. SysAdmin, Networking, and Security (SANS) is an institute which offers multiple course and certifications with GIAC Penetration Tester (GPEN) being the most popular one. It mainly covers in-depth technique approaches to verifying the entire way up through reporting and scoping. The main objectives to learn under GPEN are attacking password hashes, advanced password attacks, initial target scanning, exploitation fundamentals, pen-testing foundations, vulnerability scanning, moving files with exploits, penetration testing using the Windows command line and power shell, reconnaissance, and web application attacks.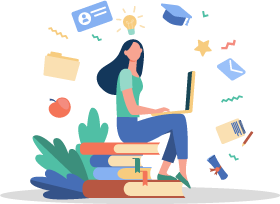 Get Trained with Ethical Hacking Training from Top-Rated Industry Experts
Instructor-led Sessions
Real-life Case Studies
Assignments
Explore Curriculum
3. Offensive Security Certified Professional
OSCP has been around for only about 10 years, but it has already gained a good reputation for durability and toughness. It contains practical training and exams. The Offensive security certified professional course teaches how to attain, alter and apply public exploit code. This course also offers advanced pen testing exams and courses such as wireless, web, advanced Windows exploitation. OSCP is designed to show the students' practical, accurate, precise and clear understanding of the penetration testing process and life-cycle through a strenuous twenty-four (24) hour certification exam. So, to conclude, this certification proves that its holder is able to recognize vulnerabilities, generate and alter exploit code, exploit hosts, and successfully accomplish tasks on the compromised systems over several operating systems.
4. CREST
The CREST certification exams and courses are widely accepted across many countries. These countries include the UK, Europe, Asia and Australia. This test helps to certify as well as educate quality pen testers. This is a not-for-profit organization that aids the requirements of a technical information security marketplace that entails the service of a regulated and structured services industry. CREST helps to build high quality capability, capacity and consistency within the worldwide technical cyber security segment. In order to counter the risk of cyber-attack it is also vital that the industry works in a collective manner and shares top practice and knowledge. It is also important to have in place progressive activities that support professionals employed in the industry to obtain and maintain the knowledge that need to work in this rapid shifting environment. CREST acts as a focus for the progress of best practice and professional progress activities through its collective research deeds.
5. Foundstone Ultimate Hacking
Foundstone Ultimate Hacking is the next best certification. This is the practical penetration course available. Additionally, Foundstone proposes various training options further than just writing testing inclusive of forensic and incident responses, and also provides learning of how to hack the Internet of Things also known as IoT, firmware, RFID and Bluetooth. Under this course you'll discover how hackers and evil-minded malefactors analyse and develop target vectors directed at your critical assets, cultivate the policy underlying the search for flaws before they become a security threat, and help to expand the mind-set of a malevolent attacker and recognize the actual risk posing to your organization. You will also learn how to apply the tools and methodologies using by hackers in a controlled and secure environment as well as how to promote your own security toolkit from previously tested tools.
6. Certified Penetration Testing Consultant
If you are looking to be a professional who is supposed to be responsible for securing computers, then CPTC is the certification for you. This certification teaches you advanced expertise with in-depth penetration testing and auditing security controls including physical and user security. This certification teaches you the business of penetration testing.
7. Certified Penetration Testing Engineer
CPTE is a certification which qualifies you to have expertise and knowledge of five key information security components: penetration testing, data collection, scanning, enumeration, exploitation and reporting. Also, CPTE trains you on how to hack and also teaches you on how to become an ethical hacker. This is an internationally accepted cyber security certification and is held to be one of five core cyber security credentials.
Some facts about ethical hacking
Ethical hackers are hired by companies to hack into their systems and to report back with the weaknesses. This helps the company to learn which precaution to take. There are 5 phases to ethical hacking namely,
a) Reconnaissance
b) Scanning
c) Gaining access
d) Maintaining access and
e) Covering tracks
The salary income of an individual who has gotten into the field of hacking is as follows
A security analyst would get paid $36,817 while a CEH would get paid $74,457. An information security analyst – $30,429, an ethical hacker and a security consultant would get paid $10,80,000 and $77,869, respectively.
Ethical Hacking Sample Resumes! Download & Edit, Get Noticed by Top Employers!
Download
Conclusion
We live in the era where attacks come from any place at any time, thus, we never know how capable, well-funded, or tenacious the threat will be. Through these certifications, you will be wrapped up in a hacker's mind set, assessing not just logical, but also physical security, discovering every conceivable point of entry to find the weakest link in an organization. From an end user to the secretary, the CEO, misconfigurations, vulnerable times all through migrations even data left out in the dumpster.
So, as to conclude, ethical hacking comes in various shades: black, white and grey. While white hackers use their ability for good, black hackers use it for malicious intents. Ethical hacking is the main key to solidifying network security, and it's one of the most wanted skills for any IT security expert. And the white hackers train themselves in ethical hacking by testing to see if an organization's network is exposed, weak or vulnerable to an outside attack.
The Ethical Hacking certifications can open many doors for you in the professional field. So what are you waiting for? Now when you have an idea about the whole topic of ethical hackers, you will be able to identify the pros and cons. Now, it is your turn to explore. If this is your field of interest, definitely sign up right away and find out what's more in store for you. Good pay, high job role and in your desired location – all this adds up! So, go and find your hackers pack – your way to success!
Are you looking training with Right Jobs?
Contact Us